"Race & Space"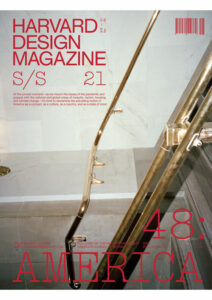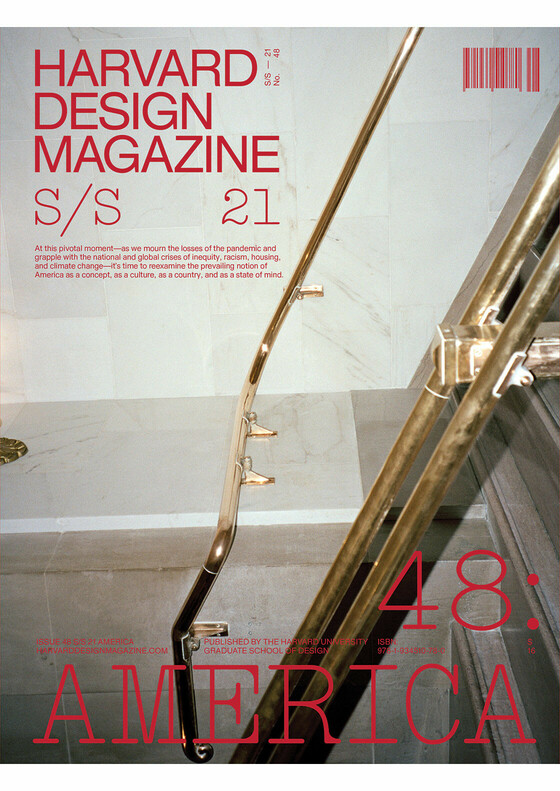 Featured in:
Special
February, 2020
Adrienne,
As a Loeb Fellow this year, I am auditing a course taught by K. Michael Hays and Lisa Haber-Thomson at the Harvard Graduate School of Design. Its focus is "Modernism and Its Counter-Narratives." Your work on skyscrapers was referenced in our lecture and your essay "The Architecture of Racial Phenomena" is on the syllabus. In keeping with the movement to #citeblackwomen and notify them when their scholarship appears on syllabi, I wanted to let you know.

Your essay is paired with Cornel West's essay "Race and Architecture" from the 1990s in our readings on "Americanism and the phenomenology of race." I'm curious what you teach your own students on these topics. And what does the term Americanism mean for you?
Eurocentrism is still a feature of architecture pedagogy in American universities. So seeing your work as well as writings by Mabel Wilson, Christina Sharpe, Katherine McKittrick, and others, as "required reading" for the course has been encouraging. In teaching and scholarship, I believe there is a need for what might be called "critical race architectural history"—a consistent interrogation of the roles race and racism play in what architecture tells itself about itself

I recently saw that the Society of Architectural Historians will have an affiliate group for "Race and Architectural History." I'm looking forward to participating in that effort. It seems to be a promising time in the field, as new books are dropping daily. Have you seen Charles Davis's book on race and architectural style? The key thing is to get this material to instructors and into classrooms.

I look forward to seeing your syllabus and learning how you treat these issues in your courses.
All best,
Michelle
*My naming of "critical race architectural history" borrows from "critical race art history," a term originated by Jacqueline Francis and Camara Dia Holloway, founders of the Association for Critical Race Art History.

February, 2020
Dear Michelle,

I'm so excited to hear about your time at Harvard. The undergraduate course I'm now teaching, "Race and Space," asks students to consider race and space across a number of disciplines and contexts. Although we haven't used this exact term, Americanism in the context of my course might name processes of racialization key to maintaining power relations undergirding the nation-state. W.E.B. Du Bois—who is on my syllabus—argued in 1915 that Americanism must entail a genuine movement toward "the abolition of the color line." But he also suggests elsewhere that this eradication is unlikely without a deeper reckoning with the color line's elasticity, durability, and utility, shaping not just how we see but what we build.

I write about the spatial dimensions of Du Bois's concept of double consciousness in The Black Skyscraper along with the broader significance of architecture to his thought; but teaching the array of ways that space makes race and vice versa emerging across the centuries of literature I cover this quarter in class has made me eager to return to this subject in my work. For instance, teaching Mabel Wilson's essay "Changing the Subject: Race and Public Space" alongside work by Adolf Loos and Zora Neale Hurston last week reminded me once more of the range of ways architecture shapes racialized forms of looking.

Can't wait to teach Charles Davis's book in my course next time! I imagine pairing it with modernist fiction and art to stage a broader conversation about race, character, and style across aesthetic forms. The architectural history of race informs so many discourses beyond architecture—an idea I see informing your curatorial work as well.

– Adrienne
July, 2020
Hi Adrienne,
The editors of Harvard Design Magazine have asked us to reprise our conversation, in light of what our nation has experienced over the past several months. How has this time been for you? I have been frustrated, inspired at times, and constantly looking at those who are making meaning of all of this—from the devastation of COVID-19, to the sickening loss of Black life at the hands of police, to the surge of protests and demands for a racial reckoning nationwide.

For me, that reckoning also has to do with how race intersects with space. Having sheltered in place in New York during the pandemic, I have been thinking a lot about those who have had to remain in dense, high-rise apartment buildings, and those who were able to leave. How does the design of one's shelter help or hinder the spread of infection?

Just last night I read about a Johns Hopkins Bloomberg School of Public Health study1 that found "Urban Density Not Linked to Higher Coronavirus Infection Rates."2 Immediately, I thought, That doesn't make sense. Though I had seen inklings of this argument before, I've remained skeptical. Reading the article closely, however, what it ultimately said is that despite no substantive correlation between "population density" and infection, large metropolitan areas with higher proportions of African Americans have seen greater infection and death rates. So density is a factor. . . if you are Black?

I'm not against density; I enjoy it. I grew up in Brooklyn, and my default comfort setting is a bustling city with people out and about. But the benefits of density should not become casualties for Black people, poor people, or anyone else. In your research and writing, are there any clues to understand how we can best mitigate (eliminate!) the racial disparities in health outcomes and life outcomes attributable to dense living conditions?

Articles on different kinds of densities,3 and their socioeconomic roots, have been useful for me in parsing some of this out. But it still feels like an enigma. As we all look at what to read, who to follow, what actions to take, etc., sharing ideas would be beneficial. Given your work, will you join me in suggesting 10 readings or resources that should be part of any thoughtful engagement and activism around race and space?

I appreciate you. Take good care and I look forward to your response.

Best,
Michelle
July, 2020
Dear Michelle,

Thank you for writing and being willing to continue this conversation. I must admit, it's been a struggle to try to move beyond sheer grief and exhaustion occasioned by the pandemic and the most recent spate of police violence that have once more showcased the ongoing and disproportionate precarity of Black life. But we must try—and as a scholar, that trying for me includes continuing to insist that the built environment is not a neutral backdrop to these occurrences but actively shapes the uneven racial outcomes of both illness and policing.

In that vein, density has been on my mind as well. Back in April, I read a ProPublica4 report taking up some of the questions you describe in relation to the pandemic, asking what kind of a factor density has been in the differential infection rates for Black and Latinx urban populations. Their findings, which I wrote about in an article for Foreign Policy 5 in June, continue to stay with me. ProPublica found that higher COVID-19 infection rates in minority neighborhoods do not correlate with neighborhood density but with household density. Despite having fewer households per mile than many other neighborhoods, places like Englewood on Chicago's South Side have had some of the highest infection rates in the city. These same neighborhoods were also, not coincidentally, devastated by the 2008 housing crisis. The subprime mortgages and mass foreclosures in Englewood and other Black and Latinx urban communities in 2008 has led to larger extended families living under one roof. ProPublica posits it is these larger households, where social distancing from those with whom you live is difficult, that may be responsible for higher infection rates.

The neighborhoods hit hardest by both COVID-19 and the 2008 subprime crisis are also largely the same ones that bankers, urban planners, and government officials in the first half of the 20th century redlined as bad investments. The mass expropriation of wealth from these neighborhoods has had major consequences for the health outcomes of their residents. As a study6 conducted by NYU's School of Medicine revealed last year, while residents in Chicago's Streeterville neighborhood on the North Side have a life expectancy of 90 years, Englewood residents living just nine miles south have a life expectancy of 60—the nation's largest such disparity. Redlining decisions from nearly a century ago continue to shape the economic, material, and medical conditions governing Black life in the US that the pandemic is only exacerbating.

The range of sources and disciplines we both seem to be drawing from to make sense of race and space in these times seems to reflect the manifold forms of attention it takes to think and see the variable and often fitful ways bodies, physical materials, and systems of both power and perception become entangled and co-constitutive. Even more reason to keep thinking together, sharing and stretching across institutions and disciplines, and taking care together.

All my best,
Adrienne
21 Readings and Resources
1.
Brown, Adrienne. "Seeing Race In a Pandemic." Foreign Policy, July 1, 2020.

2.
Cheng, Irene, Charles L. Davis II, and Mabel O. Wilson. "Racial Evidence." Journal of the Society of Architectural Historians, December 2017.

3.
Cheng, Irene, Charles L. Davis II, and Mabel O. Wilson, eds. Race and Modern Architecture: A Critical History from the Enlightenment to the Present. Pittsburgh: University of Pittsburgh Press, 2020.

4.
Coryne, Haru. "In Chicago, Urban Density May Not Be to Blame for the Spread of the Coronavirus." ProPublica, April 30 2020.

5.
Davis, Charles L., II. Building Character: The Racial Politics of Modern Architectural Style. Pittsburgh: University of Pittsburgh Press, 2019.

6.
Drain, Jasmon. Stateway's Garden: Stories. New York: Random House, 2020.

7.
#Enclosure – Global Africa Lab in conversation with Justin Moore, July 2020.

8.
Hamidi, Shima, Sadegh Sabouri, and Reid Ewing. "Does Density Aggravate the COVID-19 Pandemic? Early Findings and Lessons for Planners." Journal of the American Planning Association, June 2020.

9.
Harrison, Tayler. "A Blueprint for Public Housing." National Museum of African American History & Culture. 2019.

10.
Hartman, Saidiya. "The End of White Supremacy, An American Romance." Bomb, June 5, 2020.

11.
Kirkham-Lewitt, Isabelle, ed. https://cup.columbia.edu/book/paths-to-prison/9781941332665 Paths to Prison: On the Architecture of Carcerality. New York: Columbia University Press, 2020.

12.
Lambert, Léopold, ed. The Funambulist by its Readers: Political Geographies from Chicago and Elsewhere. Paris: The Funambulist, 2019.

13.
National Museum of African American History & Culture. "Shifting the Landscape: Black Architects and Planners, 1968 to Now," Resource Section, 2018.

14.
Onikoro-Arkell, Gabriella. "Confinement and Disease from Slavery to the COVID-19 Pandemic." Black Perspectives, May 14, 2020.

15.
Pitter, Jay. "Urban Density: Confronting the Distance Between Desire and Disparity." Azure Magazine, April 17, 2020.

16.
Radcliffe Institute for Advanced Study. "How to Build a Better World." Esra Ackan interviewed by Ryan Mulcahy." April 28, 2020.

17.
Summers, Brandi T. "What Black America Knows About Quarantine." New York Times, May 15, 2020.

18.
Taylor, Keeanga-Yamahtta. Race for Profit: How Banks and the Real Estate Industry Undermined Black Homeownership. Chapel Hill: UNC Press, 2019.

19.
Wilkinson, Michelle Joan. "A Graph For Those Who Remain." Loeb Fellowship Final Presentation, May 2020.

20.
Wilson, Mabel O. "Mine Not Yours." E-flux. 2018.

Bonus! A list of lists:

21.
The Architectural League of New York. "Resources for reading and viewing on race and architecture, compiled by Mario Gooden, with Mabel O. Wilson and the Architectural League staff."
1
Shima Hamidi, Sadegh Sabouri, and Reid Ewing, "Does Density Aggravate the COVID-19 Pandemic?," Journal of the American Planning Association (July 2020),
https://www.tandfonline.com/doi/full/10.1080/01944363.2020.1777891
.
2
Johns Hopkins Bloomberg School of Public Health, "Study: Urban Density Not Linked to Higher Coronavirus Infection Rates—and Is Linked to Lower COVID-19 Death Rates," News release (June 18, 2020),
https://www.jhsph.edu/news/news-releases/2020/urban-density-not-linked-to-higher-coronavirus-infecti…
.
3
Jay Pitter, "Urban Density: Confronting the Distance between Desire and Disparity," Azure, April 17, 2020,
https://www.azuremagazine.com/article/urban-density-confronting-the-distance-between-desire-and-disp…
.
4
Haru Coryne, "In Chicago, Urban Density May Not Be to Blame for the Spread of the Coronavirus," ProPublica, April 30, 2020,
https://www.propublica.org/article/in-chicago-urban-density-may-not-be-to-blame-for-the-spread-of-th…
.
5
Adrienne Brown, "Seeing Race In a Pandemic," Foreign Policy, July 1, 2020,
https://foreignpolicy.com/2020/07/01/physical-built-environment-affects-perceptions-race/
.
6
Lisa Schencker, "Chicago's lifespan gap: Streeterville residents live to 90. Englewood residents die at 60. Study finds it's the largest divide in the U.S.," Chicago Tribune, June 6, 2020,
https://www.chicagotribune.com/business/ct-biz-chicago-has-largest-life-expectancy-gap-between-neigh…
.