It Is a Fundamental Right to Have a Place to Live in Well: 2Up2Down / Homebaked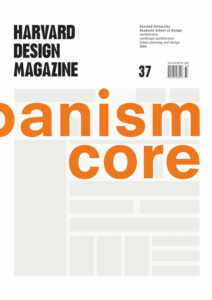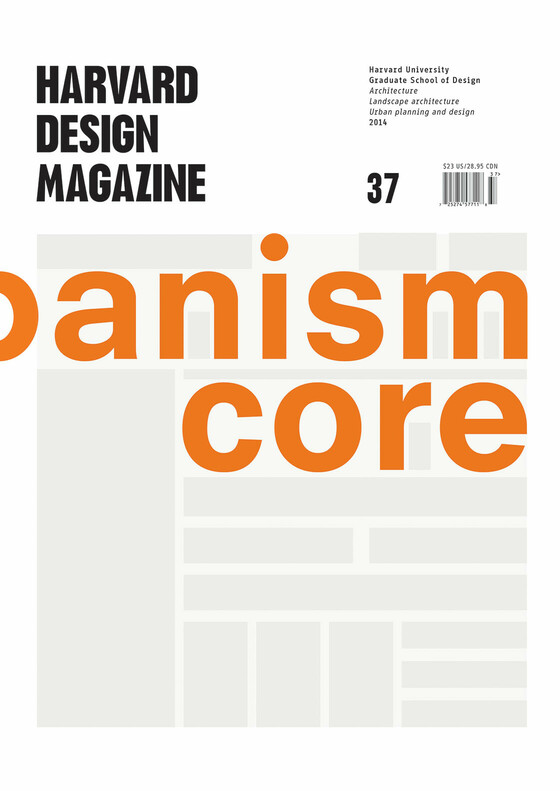 Featured in:
Essay
Visitors to Anfield, a classic Northern English working class neighborhood, famously the home of Liverpool Football Club, walk around in disbelief. Streets upon streets are boarded up, many houses have been demolished, and leaving temporary grassed areas. The high street consists mainly of fast food outlets, catering only to match-day visitors. To the back of the Stadium where the LFC is planning to build a new stand, residents are stranded between 'tinned up' houses owned by the city or the club. This is not a recent development and it was not, like some might assume the residents who let their area fall into decline.
"Housing is the battlefield of our time and the house is its monument." — Jeanne van Heeswijk, artist and Homebaked Co-Creator
This neighborhood fell victim to a failed government scheme called Housing Market Renewal Initiative, originally thought up to get money flowing through nine northern English areas; places identified as 'market failures' where unlike anywhere else in Britain house prizes had stagnated. Alone in the Anfield/Breckfield area several thousand homes have been emptied in order to build new housing estates. Many people who owned their terraced house outright can't afford the new homes with the compensation given to them by the city and were either pushed into debt or had to start renting.
"The clue is in the name really, Market renewal. Market is the key word here. Not community." — Britt Jurgensen, local resident and Homebaked Co-Creator
The local community has had their hopes repeatedly raised and then dashed by promises of "neighborhood regeneration," which has been slow to materialize. HMRI was pulled completely in 2008 due to the economical crisis. Since then the city is desperately trying to come up with a new solution. After 15 years of living under these circumstances many people have lost trust in any government schemes. They are "sick of waiting."
"To me, HMRI means devastation, promises broken, no consultation." — Angela Mckay, local resident and Homebaked co-creator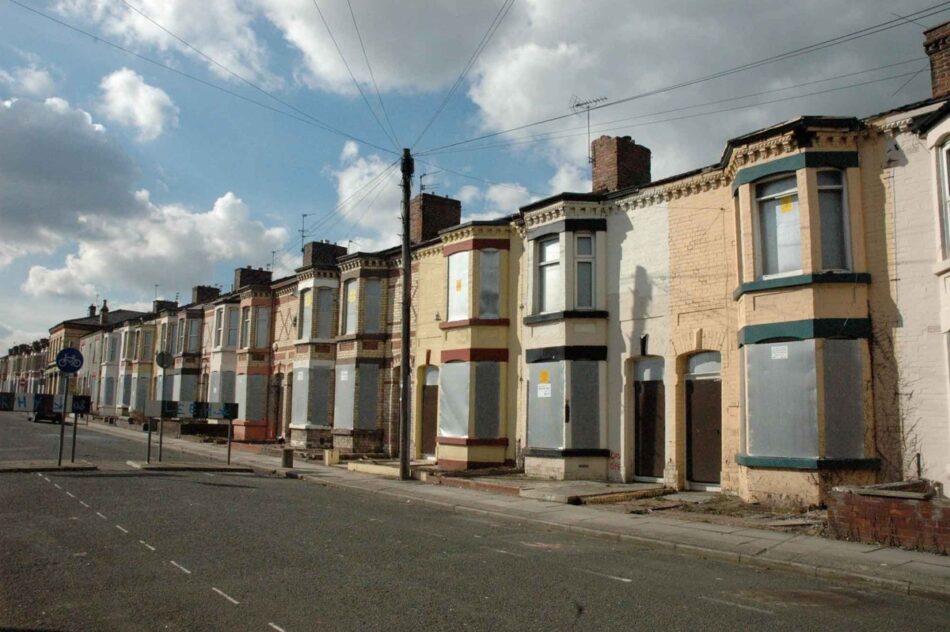 A Bakery as a Site of Resistance
When Anfield was designated as part of the Housing Market Renewal Initiative, Mitchell's, the neighborhood bakery since 1903 was among the buildings earmarked for demolition. The family who owned it were then in their 70s, and considering retirement. Unable to sell a business whose building was threatened with demolition, they waited for the local council to buy them out, losing custom as the surrounding streets were emptied. When the renewal program was frozen and the demolition order remained in place, they had no choice but to close the bakery and retire without compensation.
In 2011 the building became the base for 2Up2Down, a project attempting to create a small-scale community-led alternative to large planning schemes, assisting residents to confront the issues facing the stagnated development of their neighborhood, and to create a sustainable, affordable building and re-use scheme.
Since then the bakery building has become the site for public discussion and debate as well as for weekly design workshops and planning sessions focusing on its transformation. Over the first year a group of around twenty young people worked with URBED architects to remodel the building to accommodate a community bakery with training kitchen alongside a small housing scheme for two to four households, taking the community as their client.
"I get the chance to have a say of what's going on in my area now. I know people who have been moved out of their homes and had to change everything about their lives. I don't want to see that happen again." — Lisa, 16, member of the Design Team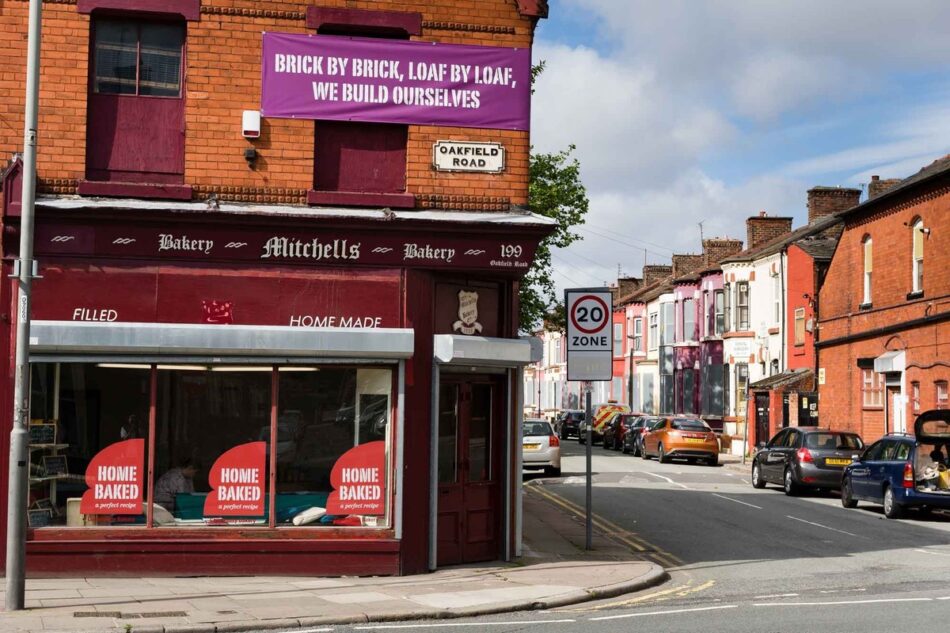 They were joined by other people of all ages from the community who together developed a new model for community-owned housing and enterprise. It is called Homebaked. The group established a Community Land Trust, which will enable the community to collectively own and manage land and buildings. A smaller team of mostly women established the Homebaked Co-operative Anfield to re-open the bakery. Since November 2012 the bakery has been open on match days and other occasions, inviting more people from the community to train as bakers, share their skills and develop the business plan.
"Not all visitors to the bakery would realize, as they sip their fresh coffee and nibble on a home-made cake, that they're in the warm heart of a resistance movement." — Lynn Tolmon, local resident and Homebaked co-creator
Homebaked opened its doors again as a fully functioning local bakery and wholesale business in October 2013. In April 2014 the Homebaked Community Land Trust will start to retrofit the flats above the bakery following the plans created by the young people. The CLT is simultaneously negotiating with Liverpool City Counsel the handover of the adjacent property in order to develop them with and for the community.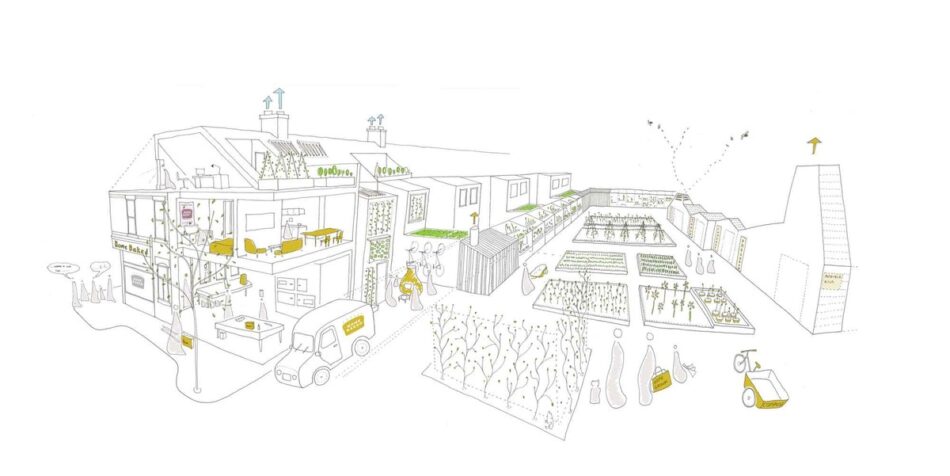 "Homebaked is built brick by brick and loaf by loaf by the Anfield community." — Motto derived from a community workshop.
But Homebaked is more than business and housing, it's a meeting point for different communities and stake holders in the area and has become a place where together people are gaining a better understanding of the housing regeneration process underway in their neighborhood and, importantly, acquiring the skills and confidence to play an active part in improving their surroundings and, with it, their life chances.
"2Up 2Down will continue to change local people's ability to influence the way their neighborhood is managed and developed, and help them to take matters into their own hands." — Maria Brewster, project coordinator and Homebaked co-creator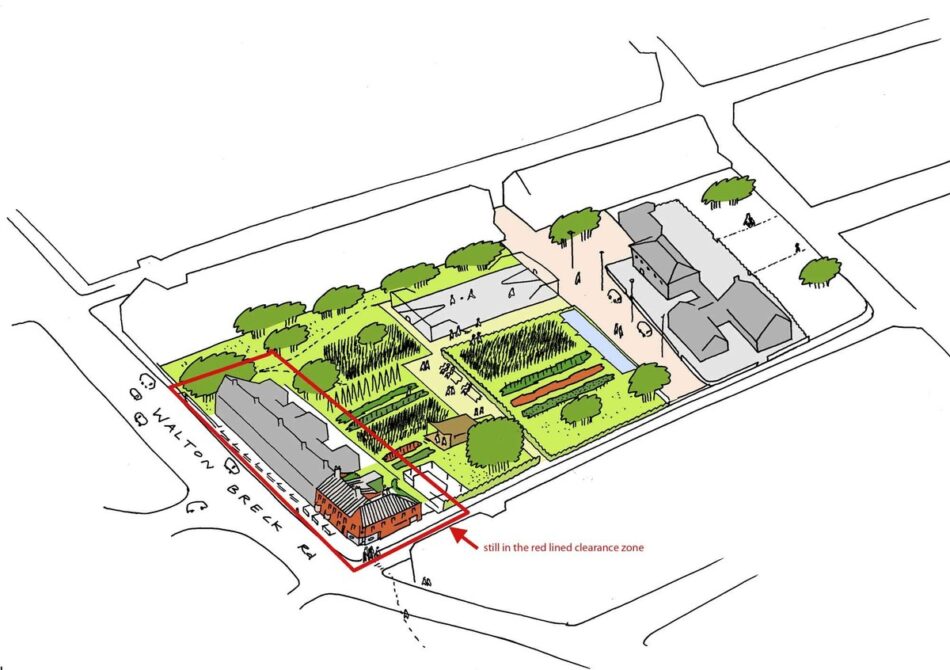 Homebaked is an independent Community Land Trust and Cooperative Bakery established through 2Up2Down a project by Jeanne van Heeswijk commissioned by the Liverpool Biennale.