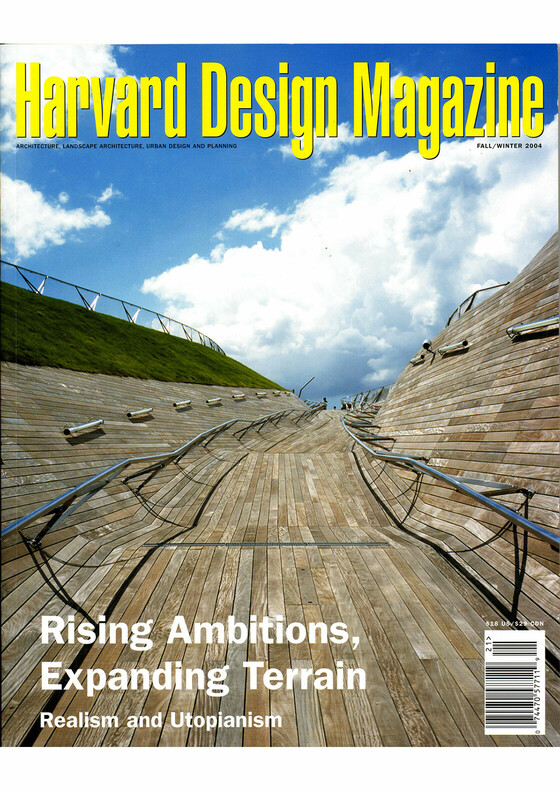 Harvard Design Magazine is committed to fostering critical understanding of the designing and making of the built environment through the examination of its underlying values and its place within larger social and cultural forces. In this issue eleven leading designers and critics step back from contemporary practices to evaluatively characterize their major attributes. Each answers questions on: most important current issues, best recent projects, overrated projects, designers' power and influence, the impact of design on daily life, designers as environmentalists, designers' new roles, design education, and design's place in our market economy. In addition, essays appear on Alvaro Siza, Charlotte Perriand, fear in American land use, recent attempts to rekindle modernism, and several other topics. Harvard Design Magazine 21 is offered for your intellectual stimulation and engagement.
Articles
Table of Contents
Essay
"Criticality" and Its Discontents
George Baird
"Nothing to Envy in the World"?
Bruce Cumings
A Call for the Radical Revitalization of American Planning
Emily Talen
A Scientific Autobiography 1982–2004: Madrid, Harvard, OMA, the AA, Yokohama, the globe
Alejandro Zaera-Polo
Double-Loaded: Everyday Architecture and Windows for Improvement
Timothy Love
ELEMENTAL: Building Innovative Social Housing in Chile
Alejandro Aravena
Iconic Public Buildings as Sites of Technological Innovation
Paolo Tombesi
Incremental Urbanism: New Models for the Redesign of America's Commercial Strips
Jude LeBlanc, Matthew Gamble
Morning Shower Thoughts on Remaking Cities
Adriaan Geuze, Chidi Onwuka
No More Dreams? The Passion for Reality in Recent Dutch Architecture…and Its Limitations
Roemer van Toorn
No More Tabula Rasa: Progressive Architectural Practices in England
Lucy Bullivant
Not Unlike Life Itself: Landscape Strategy Now
James Corner
Quiet Havana, Potential Global City
John A. Loomis
Sert, CIAM, and the GSD: A Memoir
Eduard F. Sekler
Utopia and the Hazards of Perfection: Now and in the Renaissance
Nicolas Adams
Review
Cedric Price: The Square Book; Re:CP; Opera by Cedric Price
Robert Harbison
City: Urbanism and Its End by Douglas W. Rae
Thomas Bender
Eichler/Modernism Rebuilds the American Dream by Paul Andamson and Marty Arbunich
Sebastian Schmaling
Pevsner on Art and Architecture: The Radio Talks by Nikolaus Pevsner edited by Stephen Games
Christopher Long
Suburban Alchemy: 1960s New Towns and the Transformation of the American Dream by Nicholas Dagen Bloom
Sebastian Schmaling
Territories: Islands, Camps and Other States of Utopia edited by Anselm Franke, Rafi Segal, and Eyal Weizman
Keller Easterling
The Art of Structural Design: A Swiss Legacy by David P. Billington
Martin Bechthold