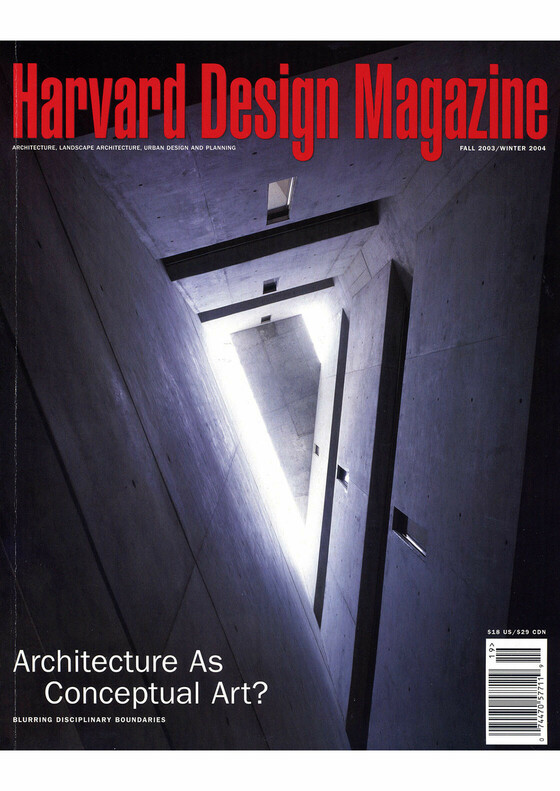 This issue focuses on the most potent and consequential revolution in 20th-century art—conceptual art—and on the architecture that has attempted to replicate it. Advocates of conceptual art—including Nana Last and Sanford Kwinter here—maintain that modern self-consciousness (launched in art most notably by Marcel Duchamp) rules out any simplicity, any innocent suspension of disbelief required by art as it once was experienced in intuitively known and created "worlds." Some, like critic Arthur Danto, go further, saying that when Andy Warhol reproduced a Brillo Box, art became whatever anyone called art, not something with a special essence.
The conceptualist position, while offering a convincing picture of a new cultural condition—we are doomed and blessed by heightened self-awareness—draws too heavy-handedly, I believe, a picture of intellectual and cultural progress. New brain science is revealing that even as our mental sophistication increases, we remain "hardwired" for primitive, bodily, tacit thoughts and feelings. And many fine architects and artists revel in that fact.
Not only do we remain capable of experiencing "traditional" works of art and architecture as opening up ways of knowing through feeling—Bach's Cello Suites move us to grief; Durham Cathedral insinuates its sturdy grandeur into our bodily sensations; we share the torment of Michelangelo in his Bound Slave—it is also true that great nonconceptual art and architecture are still made: we experience as irreducibly fecund the creations of many contemporaries —Tadao Ando, Louise Bourgeois, Rafael Moneo, Richard Serra, Alvaro Siza …
The kind of response—aesthetic—we have to the 460 BCE bronze Zeus of Artemisium can (still) be elicited by new art and architecture.
—William S. Saunders (excerpted from the introduction)
Articles
Table of Contents
Essay
Concepts: The Architecture of Hope; On Difficulty and Innovation
Sanford Kwinter
Conceptual Matter: On Thinking and Making Conceptual Architecture
Eric Lum
Conceptualism's (Con)quests: On Reconceiving Art and Architecture
Nana Last
Kit-of-Parts Conceptualism: Abstracting Architecture in the American Academy
Timothy Love
Monumental/Conceptual Architecture: The Art of Being Too Clever by Half
Mark Kingwell
On Shells and Blobs
Martin Bechthold
Smart Growth in America
Ellen Dunham-Jones
The Costs—and Benefits?—of Sprawl
Alex Krieger
The Emergence of "Landscape Urbanism"
Grahame Shane
The Muses Are Not Amused: Pandemonium in the House of Architecture
Jorge Silvetti
Review
After the World Trade Center: Rethinking New York City edited by Michael Sorkin and Sharon Zukin
Joseph Rykwert
Architecture of the Night edited by Dietrich Neumann
Sandy Isenstadt
Chandigarh's Le Corbusier by Vikramaditya Prakash
Mardges Bacon
Cities by Nigel Thrift and Ash Amin
Joseph Rykwert
City Lights by John Jakle
Sandy Isenstadt
Downtown by Robert Fogelson
Joseph Rykwert
Italian Architecture of the 16th Century by Colin Rowe and Leon Satkowski
Daniel Naegele
Labour, Work, and Architecture by Kenneth Frampton
Tim Culvahouse
Le Corbusier Before Le Corbusier edited by Stanislaus von Moos and Alexander Rüegg
Mardges Bacon
Le Corbusier by Kenneth Frampton
Mardges Bacon
Le Corbusier: Architect of the Twentieth Century by Kenneth Frampton
Mardges Bacon
Origins, Imitation, Conventions by James Ackerman
Robert Harbison
Out of Ground Zero edited by Joan Ockman
Joseph Rykwert
The American City by Alexander Garvin
Joseph Rykwert
The Minimum Dwelling by Karel Teige
Hilde Heynen
The Unfinished City by Thomas Bender
Joseph Rykwert
Theories and History of Architecture by Manfredo Tafuri and Francesco Dal Co
Michelangelo Sabatino