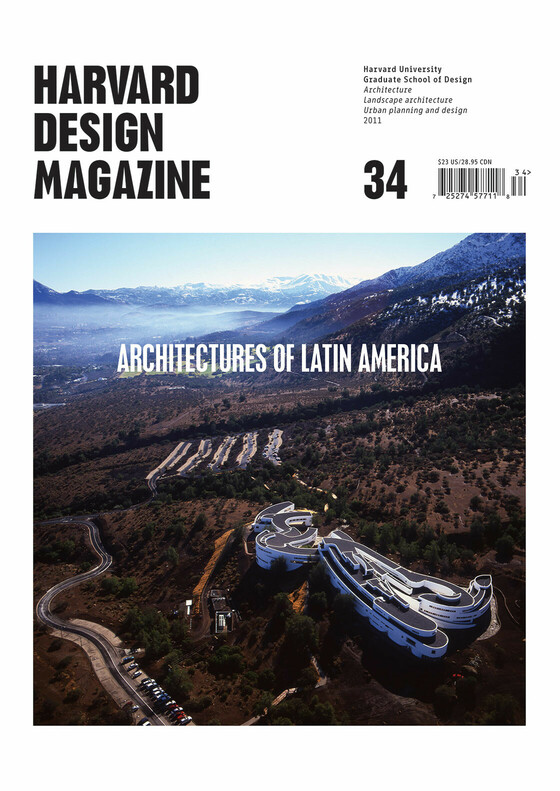 This issue is dedicated to presenting and analyzing the work and surrounding cultural/political issues of the architectures of Latin America judged to be of most merit and interest by a faculty committee at the Harvard Graduate School of Design. Their sense was that much of this work had not yet received sufficient attention and acclaim. They were adamant that the issue in no way imply that Latin American architecture and culture were one kind of thing: in fact, a goal of the magazine is to dispel stereotypes and conventional opinion, to seek for diversity. This is the first time that Harvard Design Magazine has published projects for their own sake, outside the context of a writer's broad argument. We hope you enjoy this more visual material taking its place among our more familiar critical essays.
Articles
Table of Contents
Essay
Down Detour Road: An Architect in Search of Practice by Eric J. Cesal
Danielle Etzler
Mechanization Takes Command: A Contribution to Anonymous History (1948) by Sigfried Giedion
Witold Rybczynski
Modernism after Wagner by Juliet Koss
Christopher Long
Perverse Cities: Hidden Subsidies, Wonky Policy, and Urban Sprawl by Pamela Blais
Matthew J. Kiefer
(In)visibility, Poverty, and Cultural Change in South American Cities
Felipe Hernández
14 Billions
Tomás Saraceno
A Projective Space for the South American Hinterland: Resource-Extraction Urbanism
Felipe Correa
Aquatic Complex for the IX South American Games, Colombia
Paisajes Emergentes
Casa Ajijic, Mexico
Tatiana Bilbao
Casa Cururo and its Landscape, Chile
Teresa Moller & Asociados
Casa de los Tamices, Argentina
Francisco Cadau
Casa Pentimento, Ecuador
José María Saez Vaquero
Chile, Matter, and Landscape
Fernando Pérez Oyarzún
Cien House, Chile
Pezo von Ellrichshausen Architects
Collaborations between a School and a Continent
Jorge Silvetti
Colombia 325, Brazil
Triptyque
Copper House 2, Chile
Smiljan Radic
Cummulus_1664, Colorado
Ciro Najle
Enclaves and Counter-Enclaves (in Brazilian Housing, Film, and Art)
Carlos M. Teixeira
For a Latin American Architectural Criticism
Jorge Francisco Liernur
From Paradigm to Paradox: On the Architecture Collectives of Latin America
Ana María Durán Calisto
House in Santa Teresa, Brazil
SPBR arquitectos
Interfacephyta Multicapacitaceae, Colombia
Camilo Restrepo Arquitectos
Landscape in Everything: Lessons from the Valparaíso School
Rodrigo Pérez de Arce Antoncic
Latin American Architecture Today
Iñaki Ábalos
Latin American Geographies: A Glance over an Immense Landscape
Anita Berrizbeitia, Romy Hecht Marchant
Mexican Architecture Must Redeem Poor Construction
Alejandro Hernández Gálvez
Monte Sinai Synagogue, Mexico
Taller de Arquitectura X (TAX)
O Avesso Do Avesso: Recent Brazilian Architecture
Ruth Verde Zein
Post-Disaster Regeneration in Chile: Urgent Responses and Gradual Developments in a Seismic Country
Jorge Heitmann
Problems with Urban Design Competitions
Jonathan Barnett
Puertoricanism, or Living at Ease in the Surface
Miguel Rodríguez Casellas
Sports Coliseums for the IX South American Games, Colombia
Mazzanti Arquitectos
Studio, Paraguay
gabinete de arquitectura (Solano Benítez)
Teatina-Quincha Shelter, Peru
Alexia León
The Inner Outside
Ciro Najle
Universidad Adolfo Ibáñez Graduate Center, Chile
José Cruz Ovalle and Partners
Urban Transformation (in Latin America) through Mass Transit
Maria Rubert de Ventós
What or Who Drives Architectural Design Now?
Antón García-Abril, Bjarke Ingels, Eelco Hooftman, George L. Legendre, K. Michael Hays, Mohsen Mostafavi, Preston Scott Cohen, Rahul Mehrotra, Sanford Kwinter, Toshiko Mori, William S. Saunders
WPA 2.0: Working Public Architecture
Dana Cuff