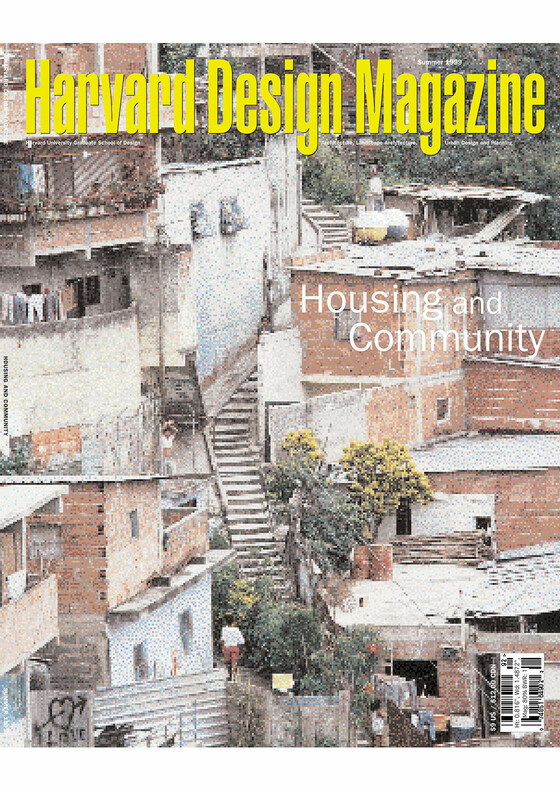 Decent housing for every citizen: this seemingly modest goal has bedeviled planners, architects, policy makers, and political leaders for much of this century, not only in the poor countries of the developing world but also in the prosperous nations of the first world. The following essays explore various efforts on four continents—official and unofficial, high design and vernacular—to come to grips with this most elemental question of shelter.
Articles
Table of Contents
Essay
Architecture for a Developing India
Vikram Bhatt
Beyond the Bully Pulpit
Nicolas P. Retsinas
Can We Overcome Me?
Sam Davis
Chicago and Beyond
Leland D. Cott
Choice in Housing
Sherry B. Ahrentzen
Deadlock Plus 50
Michael Sheridan, Richard Plunz
Diversity by Law
Jerold S. Kayden
From the Puritans to the Projects
Lawrence Vale
Houses of Hope
Diane Ghirardo
Housing Density, Type, and Urban Life in Contemporary China
Peter G. Rowe
Rome Cannot Bear the Present
Maristella Casciato
Scatology, Eschatology, and the Modern Movement
Tim Benton
The Casa Chorizo
Jorge Francisco Liernur
The Spaces of Democracy
Richard Sennett
To Ignore or Integrate?
David Gouverneur, Oscar Grauer
Why Should the Government Play a Role in Housing?
John M. Quigley
With the Whole in Mind
Wilfried Wang
Review
Ecology of Fear by Mike Davis
David Harvey
Red Vienna by Eve Blau
Kurt W. Forster
Unnatural Horizons by Allen S. Weiss
Gary R. Hilderbrand
Women and the Making of the Modern House by Alice T. Friedman
Abigail A. Van Slyck