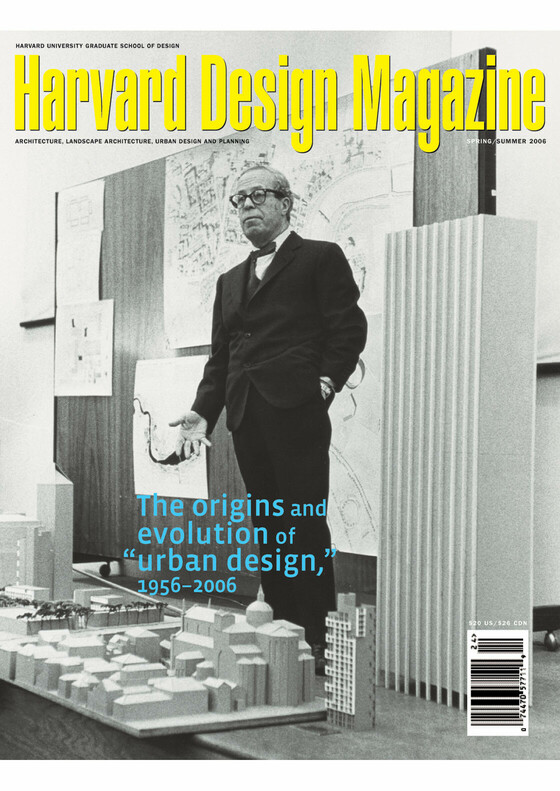 March 2006 is the fiftieth anniversary of the First Urban Design Conference at Harvard—an event that, under the leadership of José Luis Sert, marked a beginning of the self-conscious pursuit of urban design as an intellectual discipline and as a professional focus distinct from architecture, landscape architecture, and urban planning. This issue of Harvard Design Magazine critically examines the ideas and goals expressed in that first conference and at how those have and have not been affirmed by historical actualities since then. A recognition that, since designing a city is within no one person's powers, urban design has to occur in more small-scale and indirect ways pervades these essays, even as they affirm the need for all design professionals to think as if they were urban designers to advance civilized life.
Articles
Table of Contents
Essay
Assuaging Youthful Indiscretions: Gentlemen Rediscovering Urbanism
Andrés Duany
Design Will Save the World!: On Bruce Mau's Massive Change and the Mediatization of Culture
Evonne Levy, Robert Levit
Dirty Minimalism: The Liberation of Unimportance in Recent Dutch Architecture
Wouter Vanstiphout
Fragmentation and Friction as Urban Threats: The Post-1956 City
Fumihiko Maki
HDM SYMPOSIUM: CAN DESIGN IMPROVE LIFE IN CITIES? Closing Comments
Alex Krieger
HDM SYMPOSIUM: CAN DESIGN IMPROVE LIFE IN CITIES? Opening Remarks
Lawrence Summers
HDM SYMPOSIUM: CAN DESIGN IMPROVE LIFE IN CITIES? Real Estate Developers' Panel
Gayle Farris, Jerold S. Kayden, Jonathan F.P. Rose, Ken Hubbard, Mark R. Goldweitz, Ronald M. Druker, Ronald Ratner
Living Outside the Box: Mary Otis Stevens and Thomas McNulty's Lincoln House
Liane Lefaivre
Survival in a Declining Post-Industrial City: The Case of Camden, New Jersey
Camilo José Vergara, Howard Gillette
The Elusiveness of Urban Design: The Perpetual Problems of Definition and Role
Richard Marshall
The Emergence of Urban Design in the Breakup of CIAM
Eric Mumford
The Way We Were, the Way We Are: The Theory and Practice of Designing Cities since 1956
Jonathan Barnett
Trying to Fuse Vision and Efficacy: A Review of the Symposium
Timothy Love
Unforeseen Urban Worlds: Post-1956 Phenomena
Peter G. Rowe
Urban Design at Fifty, and a Look Ahead: A Personal View
Denise Scott Brown
Where and How Does Urban Design Happen?
Alex Krieger
Review
Charlotte Perriand: A Life of Creation An Autobiography by Charlotte Perriand
Daniel Naegele
Charlotte Perriand: An Art of Living edited by Mary McLeod
Daniel Naegele
Concrete and Clay: Reworking Nature in New York City by Matthew Gandy
Robert Fishman
Gottfried Semper and the Problem of Historicism by Mari Hvattum
Christopher Long
Moment of Grace: The American City in the 1950s by Michael Johns
Marshall Berman
post ex sub dis: Urban Fragmentations and Constructions edited by the Ghent Urban Studies Team
Susannah Hagan
Roberto Burle Marx in Caracas: Parque del Este, 1956-1961 by Anita Berrizbeitia
Dean Cardasis
The New Civic Art: Elements of Town Planning edited by André Duany, Elizabeth Plater-Zyberk, and Robert Alminana
Susannah Hagan