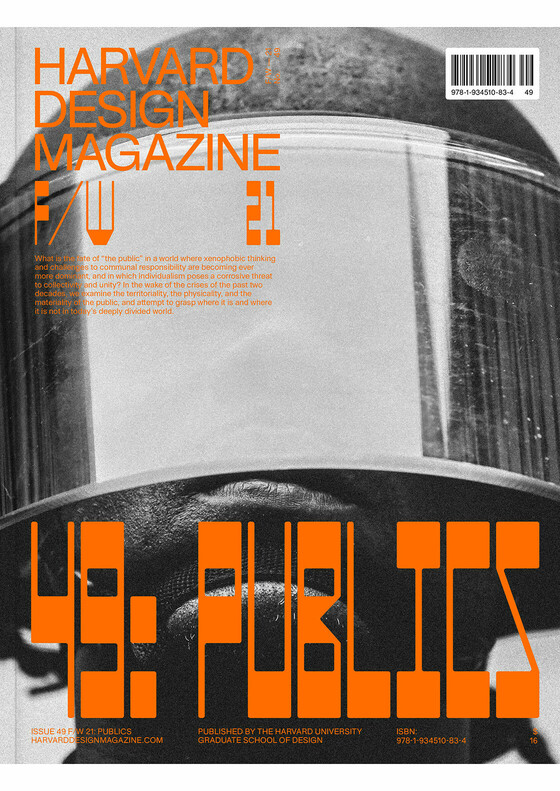 Harvard Design Magazine 49: Publics questions how public spaces—the physical, the cultural, and the theoretical—operate in a fragmented social and political environment, both in the US and abroad.
Guest editors Anita Berrizbeitia and Diane E. Davis convene leading public intellectuals, scholars, and practitioners in architecture, urban planning, landscape design, law, and the social sciences and humanities to investigate design theories and outcomes percolating at the heart of national and global cultural discourse. They ponder the fate of "the public" in a world where xenophobic thinking and challenges to communal responsibility are, as the editors observe, becoming ever more dominant, and in which individualism poses a corrosive challenge to collectivity and unity.
This issue integrates theoretical and thematic debates, including over who holds the power to define what is "public," what roles class, ethnicity, and other identity matrices play in the concept of "the public," and how the core idea of "a public" may survive—or atrophy—given looming environmental crises and deepening political and economic divisions. Publics enriches this dialogue with spatial and material looks at how the public is constructed and shaped through design projects and cultural production.
The magazine's introductory essays include contributions from Walter Hood, Sara Zewde, and architectural collaborative Assemble. The heart of Publics applies the immersive editorial structure and spatial rhythm established by its predecessor. In "Sites," Toni L. Griffin muses on "South Side Land Narratives: The Lost Histories and Hidden Joys of Black Chicago." "Spaces" offers observations from Frida Escobedo, Ali Madanipour, and others, analyzing what constitutes public space. "Scales" investigates ways in which the concept and shapes of "the public" interact with shared cultural concerns, including environmental justice, public health, and Indigenous land rights. And "Subjects" interrogates the very definition of "public"—especially the people for whom designers shape and create space.
Publics concludes with a call-and-response segment, in which contributors including Christopher Hawthorne, Lizabeth Cohen, and others respond to a provocative prompt: "What is the most important public space worth preserving now?" Answers range from city sidewalks to Boston's Franklin Park, to the Mississippi River Gathering Grounds, to your own backyard.
Articles
Table of Contents
Editors' Letter
Whither the Public?
Anita Berrizbeitia & Diane E. Davis
Essay
Beyond Placing and Distancing: Public Spaces for Inclusive Cities
Ali Madanipour
Designing for Public Trust: From Bounded Rationality to Unbounded Possibilities
Jia Lok Pratt & Emmanuel Pratt
Find a Streetlight, Step out of the Shade
Bonnie Honig
Jane Jacobs, Jeff Bezos, and the Polarized City
Sharon Zukin
Latinidad and the Construction of a New Public in Pennsylviania
A. K. Sandoval-Strausz with photographs by Michael T. Davis
On Grass and Paving Stones: Public Arenas as Contested Grounds
Rodrigo Pérez de Arce Antoncic
Owner, Occupier, Intruder: The Fight for US Public Lands
John Dean Davis
Protesting in Times of Social Distance
Tali Hatuka with photographs by Mel D. Cole
Rethinking Urban Environmental Justice: Who Benefits from Green Cities?
Isabelle Anguelovski
South Side Land Narratives: The Lost Histories and Hidden Joys of Black Chicago
Toni L. Griffin
The Perpetual Stranger
Elijah Anderson
Who is the Public for Whom We Design? And Who Are We to Design For Such a Public?
Thaïsa Way
Interview
Assemble
Matthew Allen with Fran Edgerley & Louis Schulz
For the People, With the People, By the People
Krzysztof Wodiczko, Malkit Shoshan & Alex Anderson
How Can We Share Space Together?
Walter Hood & Sara Zewde
The Great Disconnect Dr. Abraar Karan on the Crisis of American Public Health
Diane E. Davis & Anita Berrizbeitia
The Object of Applause: Producing a Public
Taryn Simon & Charles Shafaieh
Whose Space Is It?
Frida Escobedo & Sala Elise Patterson
Special
As of Right: First Nations Reclaim the City
Roundtable with Dan D'Oca, Khelsilem, Gil Kelley, Toby Baker & Andrea Reimer
Call & Response: "What is the most important public space worth preserving now?"
With Margaret Crawford, John Stilgoe, Sara Jensen Carr, George E. Thomas & Susan N. Snyder, Alejandro Echeverri, Ethan Carr, Alex Krieger, Silvia Benedito, Nicole Lambrou, Christopher Hawthorne & Lizbeth Cohen
Colophon
Editorial Director
Julie Cirelli
Production Manager
Meghan Ryan Sandberg
Guest Editors
Anita Berrizbeitia
Diane E. Davis
Graphic Design & Art Direction
Alexis Mark
Copyeditor
Rachel Holzman
Researchers
Kim Cordova, Shira Grosman, Hattie Lindsley, Barbara Miglietti
Printer
Flagship Press, North Andover, Massachusetts, USA