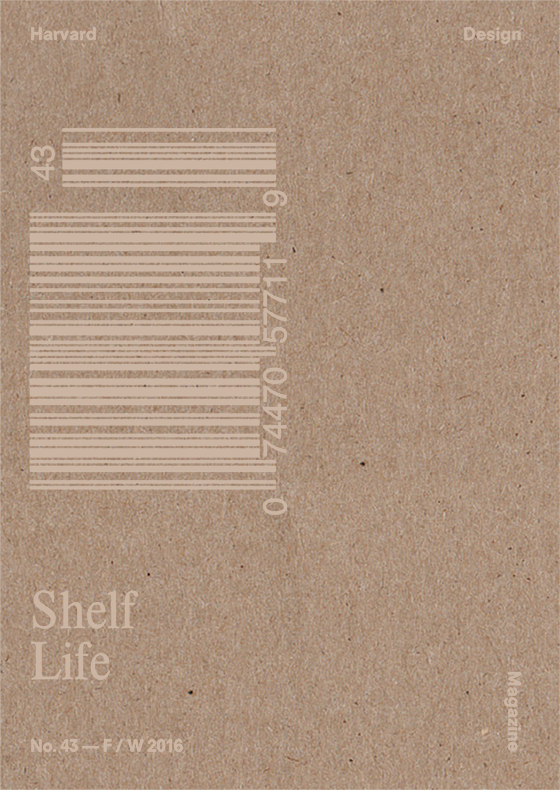 The more stuff we accumulate, the more space we need to store it all. Vast portions of the landscape are claimed and governed by spaces of storage, their maintenance, and the goods that move through them—or remain buried within them indefinitely.
This issue of Harvard Design Magazine investigates and unpacks the contents, containers, and systems of storage that organize our world.
Storage is the aggregation and containment of the material and immaterial stuff of culture; but also the safeguarding—or hoarding—of energy and tools for some imagined future purpose. How does all this stuff mask or overcompensate for economic and ecological bankruptcy? Is storage about greed or need? Storage, perhaps, is everything we can live without but insist on living with.
"Shelf Life" explores what's inside the box (shed, tank, urn, vault, crypt, crate, case, pot, bag, vat, morgue, safe, bin, archive, warehouse, cabinet, cellar, cemetery, depository, locker, freezer, landfill, library). Even as we attempt to reduce and recycle, the stuff that we dispose of also needs to be stored. Where do we put it? Our planet is now a saturated receptacle. This warehouse is full, and we're all inside it.
Articles
Table of Contents
Editors' Letter
Socks and Stocks
Jennifer Sigler
Column
Anxious about Stuff
Martti Kalliala
Architecture without Content
Kersten Geers
Carry, Conceal, Hide, Suggest, Cover
Femke de Vries, Joke Robaard
Crackers, Granite Mountain, and Future Memories
Brian Evenson
Formatting the Modern Dream
Anna-Maria Meister
Sant'Eustachio
Barry Yourgrau
The Five Points of Cloud Architecture
Antonio Furgiuele
The Temperamental Interior
John May, Zeina Koreitem
Essay
La Esmeralda, and a Brief Interrogation of Prison Ship Memory
Bryan Finoki
Before BILLY: A Brief History of the Bookcase
Shannon Mattern
Hiding in Plain View
Mark Mulligan
Hoarders of Magnitude: Super (and Not-So-Super-) Organisms
Kiel Moe
Life in Storage
Peggy Kamuf
Notes on More
Andrew Holder
Objectives: The Architectural Potentials of Storage
Megan Panzano
Storage Flows: Logistics as Urban Choreography
Clare Lyster
The Trove: On Vaults, Innards, and the Broad Collection
Mimi Zeiger
Interview
Designing the Void
Anupama Kundoo, Ateya Khorakiwala
Talking Objects
Martin Roth, Mohsen Mostafavi
Under the Bed Is a Dark, Cool Place
Christina E. Crawford, Darra Goldstein
Unité as White Cube
Alex Kitnick, Tom Burr
Artifact
A Civic Monument That Never Was
Fabrizio Gallanti
Built Like a Skyscraper
Craig Robertson
Catching Rain in Singapore
Benjamin Leclair-Paquet
Grain Silos Go to India
Ateya Khorakiwala
Information Material
Jesse LeCavalier
Keeping It Fresh
Daisy Tam, Melissa Cate Christ, Tomas Holderness
Learning from the Steel
Susan Nigra Snyder
Mammoth and Other Frozen Meats
Hi'ilei Julia Hobart
Marking Toxicity
Peter Galison, Robb Moss
Meals, Ready to Throw Away
Jesse Connuck
Media Clutter
Lynn Spigel
The Other City
Samuel Medina
Trash at the Center of the Theater of the World
DESIGN EARTH
Use in Case of Emergency Only
Jacob Lillemose
When Aalto Met Google
Rory Hyde
Insert
In My Possession
Maira Kalman
Plus
Lager: Two Storage Buildings for Ricola
Jacques Herzog
Fulfillment
David Zielnicki
Colophon
Editor in Chief
Jennifer Sigler
Deputy Editor
Leah Whitman-Salkin
Publications Coordinator
Meghan Ryan Sandberg
Creative Direction & Design
Jiminie Ha, Fahad Al–Hunaif
With Projects, Inc.
Editorial Support
David Huber, Gina Ciancone
Proofreader
Rebecca McNamara
Printer
Die Keure, Belgium