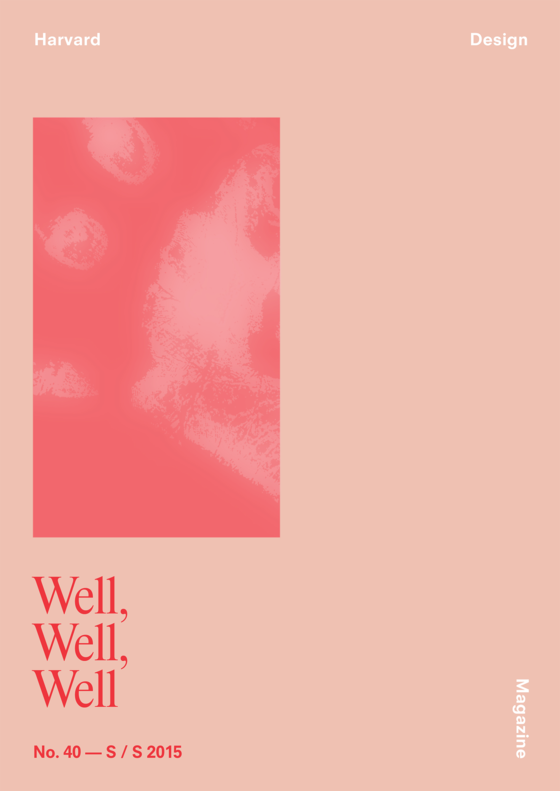 Health, and the information around it, is messy. As are our bodies and the systems intended to help sustain them. No anatomical chart, in its immaculate precision, can articulate the ooze of our fluids and secretions, or our sensations of pain and fear; or the strain of accumulating medical bills; or the clash between the cult of wellness and rampant addiction; or the inequality of access to basic hygiene, nutrition, and medical care. Like health itself, our power—as individuals, citizens, and designers—to heal or to harm ourselves and the spaces in which we dwell is full of contradictions.
These contradictions are what generated this issue of Harvard Design Magazine. "Well, Well, Well" explores some of the tensions and transformations of the landscape of health and illness. As both designers and inhabitants, we create this landscape, and in turn, must navigate our own well-being within it. And as the rules of wellness continue to change—along with political events, science and technology, and nature itself—design and planning must adapt and respond accordingly. Architecture's panaceas are not without expiration dates, and might even turn out to do more harm than good—but ultimately design has the power to promote and support health and healing in preemptive and progressive ways.
Articles
Table of Contents
Column
Designing for Dignity
Ai-Jen Poo
Healing Cuban-American Relations
María Magdalena Campos-Pons
Neuromancer Sport
Claire L. Evans
Out-of-Body Experiences: The Polis in Sickness and in Health
Brooke Holmes
What Is Medicine? And Where?
Charles E. Rosenberg
Essay
A Medical-History Tour of Pretoria
Sean O'Toole
Architecture that Breathes
Annmarie Adams
Concrete Therapy: Paul Rudolph's Architecture of Mental Health
Mark Pasnik
Freedom by Design: The Paradoxes of Psychiatric Architecture
Leslie Topp
Iatrogenic Architecture: Unreliable Narratives of Sustainability
Kiel Moe
In Search of the Water Pump: Architecture and Cholera
Michael Murphy
Messages from Material Reality
Salmaan Craig
Piss and the City
Thomas A. P. Van Leeuwen
The Forgotten Birth of Parametric Design
David Theodore
The Missing Link: Architecture and Waste Management
Andreas Georgoulias, Hanif Kara, Leire Asensio Villoria
The Non-Spaces of Medical Tourism
I. Glenn Cohen
X-Ray Architecture: The Tuberculosis Effect
Beatriz Colomina
Interview
Artificial Natures
George Church, Matthew Allen
No More Shadows
Aaron Betsky, Barrett Brown-Fried
On Atmosphere and Landscape
Germán del Sol, Silvia Benedito
Urban Age
Interboro Partners, Linda Fried
Photo Essay
Silver Lining: The NORCs of New York
Interboro Partners, Tim Davis
Artifact
A Hygiene Hypothesis
Hilary Sample
Delivering Scent, Designing Memory
David Edwards
Everyone Needs Everything
Nicholas Fox Weber
Flying Buttresses
Matthew Allen
Healing the Machine
Jeanne Gang
Holistic Planning
Ann Forsyth
How Not to Die
Jenna Sutela
In Your Backyard
Jose Ahedo
Off-the-Grid Treatment
Peter Rose
Reading Hollywood in the Smog
David Gissen
Sculpo, Ergo Sum
Jörg Scheller
Seeing the Forest for the Trees
Hui Wang, Julia Kane Africa, Yuko Tsunetsugu
Valerio's Ark
Peter Sealy
Youthfulness without Youth
Deane Simpson
Plus
Afflicted Form: A History of the Hospital
MASS Design Group
Rereading: My Dear Richard (February 9, 1968)
Barbara Lamprecht, Raymond Neutra
Ten Commandments of the Public Bath
Tuomas Toivonen