End of the Line?
It is approaching 9:00 p.m. in Bacolod, the Philippines. In the two-story ballroom of Luxur Place Hotel, the workday is beginning. Due to a shortage of modern office space in the city, Teleperformance, one of the largest corporations in the business process out­sourcing (BPO) industry, repurposed the event hall to serve as a call center. Providing chat- and phone-based "customer experi­ence management," all of the approximately 2,000 employees at the company's Bacolod office service corporations based in the United States. The most common work shift is from 9:00 p.m. to 6:00 a.m., which accounts for the 12-hour time difference between Philippine Standard Time and Eastern Standard Time.
In its current incarnation as a call center, the white stucco-clad building remains largely unaltered from its original design, aside from the addition of a large illuminated sign for Teleperformance on the structure's pitched roof. Inside, the curving marble staircase that once led to Bacolod's most elegant ballroom now leads to a production floor where agents field questions for a popular travel website. A seemingly endless assemblage of shoulder-­height cubicles spans the former dance floor, and strategically positioned stations, from which supervisors can observe employees and listen in on calls undetected, give the workplace a panoptic quality. Throughout the complex, the walls are adorned with moti­vational posters: "Be Proud: Life's Calling." "Make It Matter." "#TPProud." The remainder of the site still functions as a hotel, with a semi­transparent glass wall separating the hotel lobby from the employee canteen. Call center agents have access to all hotel facilities, including the pool, bar, and restaurants, where their presence occasionally perplexes the hotel's guests.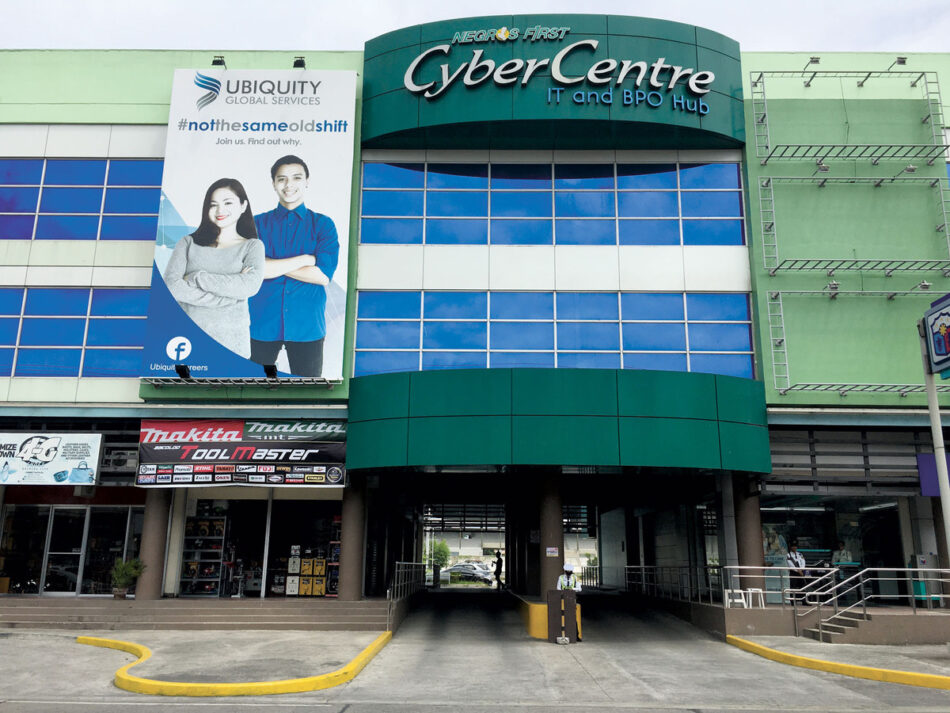 Call centers like Teleperformance's repre­sent a relatively new subset of outsourcing known as BPO, which was made possible in the early 1990s by advances in telecommunica­tions technology, financial liberalization, and the increasing pressure on businesses to reduce costs. It involves the practice of sub­contracting different aspects of business operations, from human resources to customer service, to a third party. Today, BPO is the fastest-growing sector in the Philippines, accounting for approximately 1.3 million direct jobs and $23 billion in revenue annually. Its success can be attributed to multiple factors, including high levels of English fluency in the country, internationally competitive salaries, and fiscal and nonfiscal incentives that the Philippine Economic Zone Authority (PEZA) extends to foreign investors. Regulations governing special economic zones in the Philippines are flexible: virtually any building or portion of a building that is larger than 50,000 square feet in floor area may apply for PEZA accreditation and receive the above-mentioned benefits.
In contrast to manufacturing-based special economic zones, BPO offices deal in dematerial­ized "information." Yet, the local, spatial, and sociocultural implications of the BPO industry are pronounced. Call centers require large, unobstructed floor plates on which hundreds of agents can be assembled on a single level, a phenomenon that has prompted the construction of over a million square feet of purpose-built office space in Manila alone. In smaller cities, like Bacolod, call centers have opened in big-box retail stores, in parking garages, in warehouses, and on the upper floors of regional shopping malls, in addition to the Luxur Place Hotel. What's more, Bacolod's provincial gov­ernment of Negros Occidental entered a public-private partnership to convert a stadium into a "cyber center" office park and a BPO technical-­vocational school.
Today, over 30,000 people are directly employed by the BPO sector in Bacolod—approximately 90 percent of whom service US customers. This nighttime labor force is not limited to call center agents; Jocelle Batapa-Sigue, founder of BNeFIT, the local IT council, estimates that there is a multiplier effect of three additional jobs for each BPO position created, including nighttime bus drivers, security guards, informal food vendors, and baristas at 24/7 coffeehouses. All in all, Bacolod has a nocturnal workforce of over 100,000 people—20 percent of the city's total population. This scrambling of time is changing social practices in fun­damental ways; it is not uncommon to find hundreds of people eating "lunch" at 1:00 a.m., or groups of friends singing karaoke when their shifts end at 6:00 a.m. As one industry insider reflected, "We turned night into day and day into night."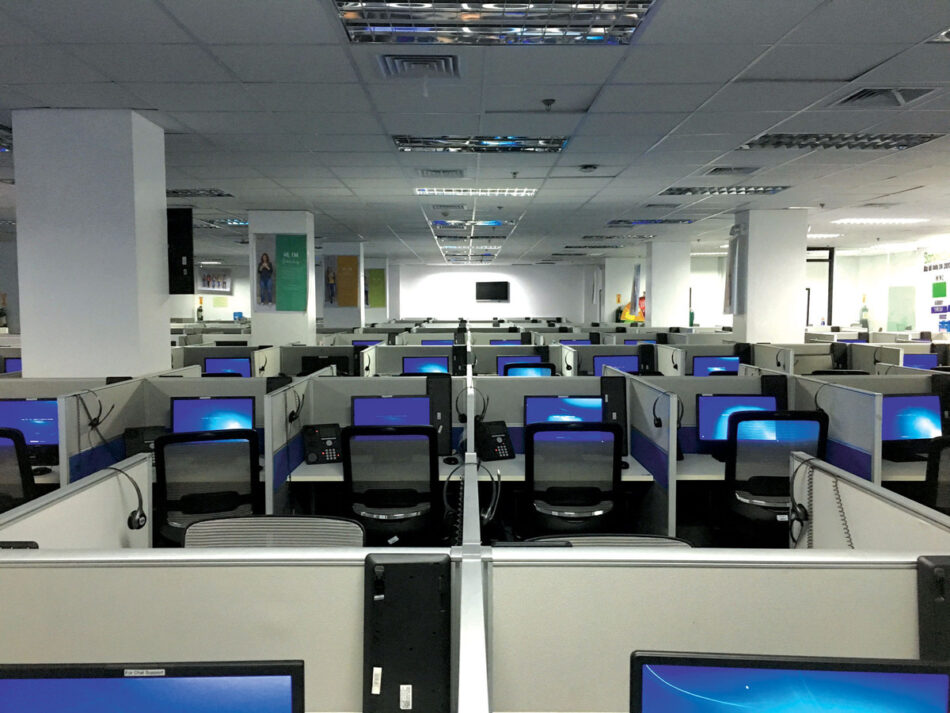 Outside the Bacolod-Silay Airport, one's attention is captured by a large billboard: "Pinoy Ba Sugar Mo?" (Is Your Sugar Filipino?)—a reminder that Bacolod grew rich as the Philippines' largest production center in the sugar-harvesting and export industry. A global decline in the cost of sugar hit the regional economy hard. For many, the overnight growth of the BPO sector (the first major call center in Bacolod opened in 2006) offers the best hope of an economic revival.
What does the future hold for Bacolod and the countless other cities around the world that are attempting to attract new investments in the BPO sector? This July, Megaworld Corporation unveiled plans for the Upper East, an 85-acre, $525 million mixed-use township to be constructed on the site of a former sugarcane mill. It will compete with Ayala Capital Capitol Commons, another BPO-anchored megaproject, which is now nearing completion. Both developments are highly dependent on the sustained growth of the BPO sector for their financial success. In addition to plug-and-play call center offices, the retail and residential components of each project aim to capture the newfound purchasing power of Bacolod's BPO workforce.
History is ripe with cautionary tales of urban economies that are overdependent on a single industry. Threats to the BPO sector loom large: Amazon, Cisco, Google, IBM, and Microsoft are all currently developing computer-­generated voice technologies that could perform the work of call center agents. At the same time, the administration of President Rodrigo Duterte is considering rolling back tax incentives for foreign corporations and is drawing international condemnation for human rights violations, leading some investors to pause expansion plans. On the other side of the Pacific, President Donald Trump has publicly ridiculed US corporations for off­shoring customer service work. As growth in the industry begins to plateau, public and private investment in BPO-anchored urban development projects appears increasingly questionable. Whereas the case of Luxur Place Hotel offers a global model for identifying existing spaces for (potentially) temporary industries, projects like the Upper East may become yet another example of overly deterministic, concrete solutions for pro­visional industries.
Justin D. Stern is a PhD candidate in urban planning at the Harvard University Graduate School of Design, where he studies the inter­play of economic development, technological transformation, and urban development, with particular focus on Southeast Asia. Stern holds a master of urban planning from the Harvard University Graduate School of Design and previ­ously worked in the affordable housing sector in New York. His research has been supported by the Fulbright Program, Harvard University Asia Center, and the Weatherhead Center for International Affairs.