No Free Rides
"The new Uber campus is about candor and connection, a place where everyone can be their best self," chirps the public relations campaign for Uber's new headquarters. Currently under construction and slotted for completion in 2020, this vision for one of the city's most contested neighborhoods, Mission Bay, will manifest in more than 10 million square feet of office space across four buildings. But as Mission Bay enters into the final trimester of its $4 billion, 30-year development plan, is Uber's corporate campus the good neighbor the area needs?
The ongoing transformation of this 300-acre slice of San Francisco—flanked by Interstate 280 to the west and the bay to the east—is among San Francisco's biggest development controversies at present. Its industrial past as the Southern Pacific rail yard has almost been completely erased. Rapid development kicked off in the early 2000s when the University of California, San Francisco (UCSF), opened its new campus in the area; still, much of Mission Bay's promised growth exists in the future. Today, it is an outline of a grand plan, overrun with UCSF's slick, post-1990s glass boxes and 14.5-acre medical center, plus nearly 4.5 million square feet of labs, offices, and retail—and soon, some of Silicon Valley's biggest bosses.
There are no schools, and commuting options are currently limited (the Muni Metro's Mission Bay Loop and a ferry service are scheduled to open in mid-2019 and early 2022, respectively), but Mission Bay is building for 11,000 expected new residents. As of summer 2017, 88 percent of the 6,400 new residential units included in the redevelopment plan were complete; 1,900 units, or 28 percent, are designated as affordable housing—including the 200-unit Five 88, the city's largest 100 percent affordable development. These figures offer the potential for a diverse new community—yet with a $4,000+ market rate for renting a one-bedroom apartment, Mission Bay has some of the highest rents in San Francisco.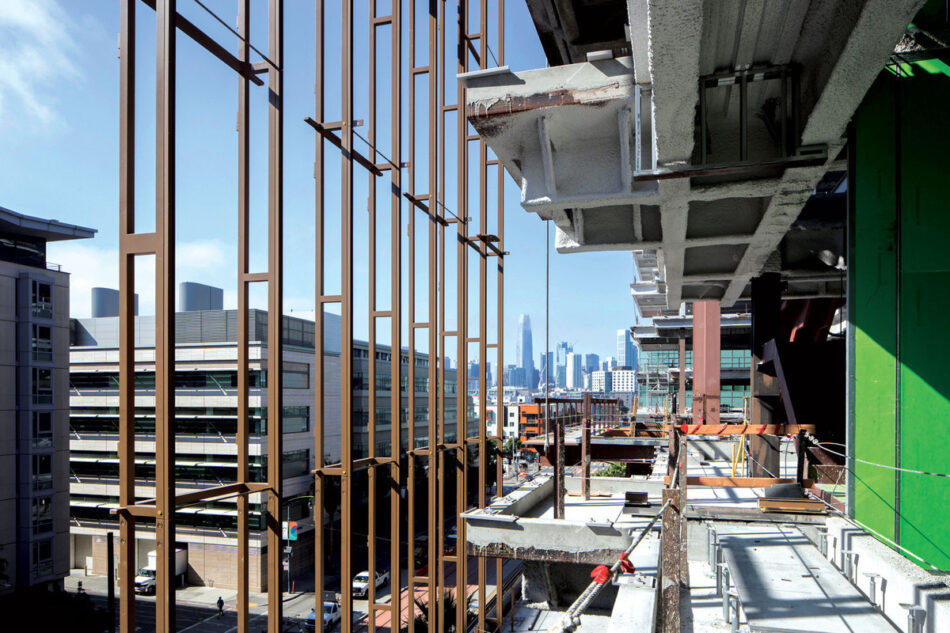 But Uber sees something of a kindred spirit in Mission Bay, whose ambitious growth and developers' disinterest in the neighborhood's history matches the accelerated drive of the company. In eight years, the taxi-alternative app has grown from a team of five tech entrepreneurs casually assembled over Twitter to the most valuable startup in the world, with a net worth of $69.9 billion and a global workforce topping 19,000. Uber played years of real estate leapfrog in its hometown—flipping potential headquarters sites (including the iconic 1920s Art Deco Sears building in Oakland, which they bought for $123.5 million in 2015 sold for $180 million in 2017) and commissioning temporary offices—before committing to Mission Bay.
In 2014, Uber teamed up with real estate giant Alexandria Real Estate Equities to acquire two parcels of land in Mission Bay previously owned by Salesforce. The $125 million deal granted Uber a 15-year lease and a permit for 420,000 square feet of office space spread across two buildings. A year later, Uber unveiled plans for a corporate campus designed by New York's go-to megaproject architects SHoP. And not long after breaking ground, it bought a stake in the Warriors arena development scheme, which granted the company access to two adjacent plots. This deal more than doubled the campus's footprint, which will total 39 office floors in four buildings, with space for 7,000 employees. As a definitive move into megacorp status, Uber's headquarters offers the company a chance to break the
hermetic seal that typically accompanies the evolution from pseudo-punk tech startup to corporate machine; failure to do so could bleed the growing neighborhood dry.
Uber's urban campus aims to be a "ground-up building for San Francisco, designed as a public space as well as a work space," attests SHoP's associate principal Angelica T. Baccon. But this ambition is based on a skewed under­standing of "public" and has more to do with voyeurism than actual use value. SHoP's design constitutes a glass-on-glass world that seems to have let material obsession take over. The site's centralized work zone, known as the Commons, will feature a specialized dual-facade with retractable glass panels that can open up to the streetscape below.
The cantilevered glass meeting rooms and work spaces of the Commons will behave as a sort of Silicon Valley sitcom, revealing to the public the various goings-on within this tech microcosm. Two steel-and-glass bridges connect the buildings without requiring employees to step foot into the outside world. The premise that Uber's offices will function as a public space is based on the illusion that "public facing" is the same as "public serving."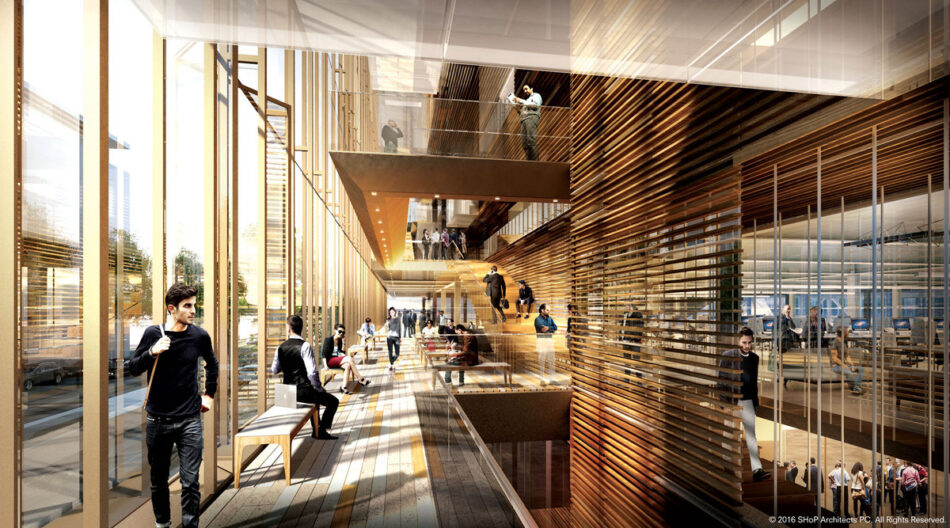 On the ground level, a new public plaza—a pedestrianized space between the two buildings—will allow employees to intermingle. While an elevated curb along Third Street—referred to as the "curb of the future"—will accommodate high-volume transit connectivity. Ground-floor facilities, including a day care, will be operational in 2019.
SHoP cites its main design references as Jan Gehl and open-access urban campuses like that of New York University, but doesn't shy away from the suburban corporate model either—references to the Nokia Bell Labs headquarters and Apple Park also emerge. The goal was to combine heads-down and open-plan work spaces, but in catering to Uber's many demands, the ultimate result is high-tech corporate modernism: fancy glass boxes, but glass boxes all the same. This is certainly a contradiction to the views of SHoP cofounder Gregg Pasquarelli, who recently described glass facades as "bad neighbors" and "a default design solution, usually when the client or the architect is out of ideas."
It is ironic that a neighborhood developed to become a biotech hub, university campus, and research hospital now needs rescuing from a tech takeover. As file-sharing giant Dropbox recently signed the biggest lease in San Francisco's history for a nearby 750,000-square-foot complex, and biotech companies are beaten to the punch by cash-rich, faster-moving tech startups, Mission Bay is increasingly at risk of being absorbed by the Silicon Valley sponge before it can build a real community—all the while having ignored the existing one. While Uber's headquarters will offer a clear view into the urban campus of the future, that transparency goes both ways, and might end up revealing to the company the lifeless tech bubble Mission Bay is on its way to becoming.
Alice Bucknell is an artist, writer, and editor based in London. With a background in visual anthropology, she investigates the links between art, architecture, cities, and digital culture. Her writing has appeared in a variety of print and digital publications, including the Architectural Review, frieze, Icon, Migrant Journal, and Metropolis. She has participated in residencies and symposiums internationally, most recently at the Canadian Centre for Architecture in Montreal; the Museum of Art, Architecture and Technology in Lisbon; and the Victoria and Albert Museum in London.