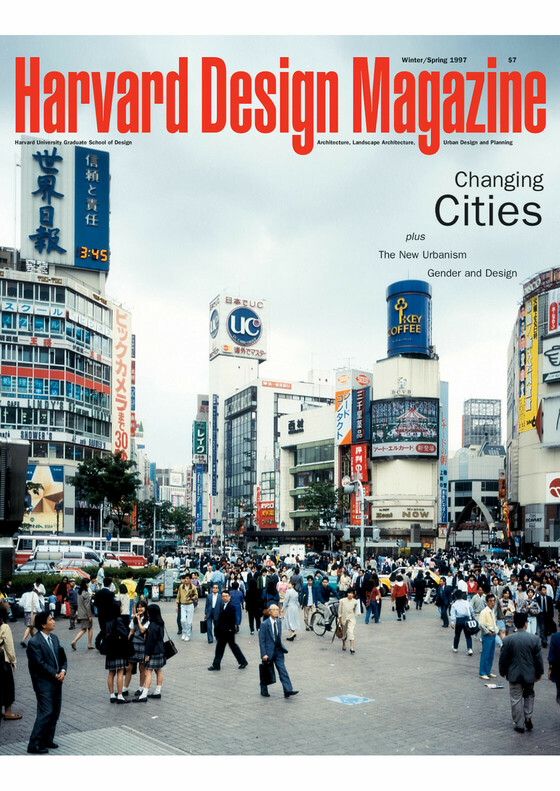 This issue focuses on the changing nature of cities worldwide, a subject of concern for our broad range of readers. Without our having encouraged any one more specific focus, a dominant note has been sounded in our essays: alarm about pernicious urban conditions endured by the poor worldwide.
Articles
Table of Contents
Essay
A Decent Life: Dilemmas of Urbanization
Mona Ismail Serageldin
A Modest Proposal for a New Sub-Urbanism
Colin Rowe
A Prospect of St. Louis
Richard M. Sommer
Cities after the End of Cities
Robert Fishman
Cities of Impossibility
Michael Kirkland
Empowerment in Abidjan
Francois Vigier, Mona Ismail Serageldin
Modern and Asian
Peter G. Rowe
Modern and Islamic
Mina Marefat
One Space, Two Worlds
Rahul Mehrotra
Ozzie and Harriet in Hell
Mike Davis
Skid Row, Los Angeles
Camilo José Vergara
The Architecture, the Book, and the Diskette
Vittorio Magnago Lampugnani
The New Urbanism and the Communitarian Trap
David Harvey
The Revanchist City
Neil Smith
The Transfrontier Metropolis
Lawrence A. Herzog
Urban or Suburban?
Alex Krieger, Andrés Duany, Carol Burns, Daniel Solomon, Edward Robbins, Ellen Dunham-Jones, Gerald E. Frug, Gretchen Schneider, Gwendolyn Wright, Jerold S. Kayden, John O. Norquist, Robert Campbell, William Morrish
Review
Architecture and Feminism edited by Debra Coleman, Elizabeth Danze, and Carol Henderson
Diane Ghirardo
Architecture: In Fashion edited by Deborah Fausch, Paulette Singley, Rodolphe El-Khoury, and Zvi Efrat
Lauren Kogod
Discrimination by Design by Leslie Kanes Weisman
Grahame Shane
Feminism and Geography by Gillian Rose
Linda Pollack
Not At Home edited by Chris Reed
Joan Ockman
Safe Cities edited by Gerda R. Wekerle and Carolyn Whitzman
Grahame Shane
Sexuality and Space edited by Beatriz Colomina
Elizabeth Wilson
Space, Place and Gender by Doreen Massey
Diane Ghirardo
STUD edited by Joel Sanders
George Wagner
The Architect: Reconstructing Her Practice edited by Francesca Hughes
Susana Torre
The Sex of Architecture edited by Diana Agrest, Patricia Conway, and Leslie Kanes Weisman
Sharon Harr
Women and Planning by Clara Greed
Grahame Shane