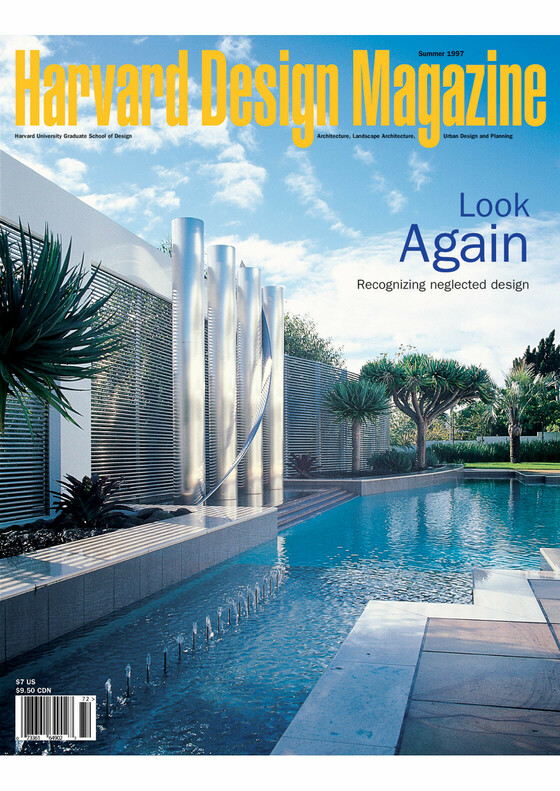 Our assumption, in asking writers to focus on neglected designs and designers, was that recognition, fame, and a place in the history books are sometimes obtained for reasons having little to do with intrinsic merit—personal connections with the "right" players in academia, the media, and the client pool; trendiness or sensational newness; marketing hype and skill; dazzling photographic images; personal wealth or brashness; and so on—and that a great deal of subtle, daring, and beautiful work, lacking such extraneous support, has been unknown even to well-informed appreciators of the designed environment. We expected to find a correlation between fine but little-known work and personal qualities such as modesty, distaste for self-promotion, and a sense of the hollowness and triviality of fame. And so we fantasized discoveries of mythical figures: isolated, unknown but extraordinary designers hidden in unlit corners of the world—our writers having had experiences like driving on a dusty road in North Dakota and coming across a cluster of buildings of extraordinary power and beauty, then finding their architect reading Portrait of a Lady in the local bar. Of course, this fantasy reflects the cliché of the Romantic artist; in fact, there is little relationship between an artist's personality or behavior and the quality of his or her work, as is demonstrated by the long list of egocentric designers who somehow manage to transcend their psychic limitations in inspired architecture, even architecture sensitive to its users' needs. (And, one has to admit, brutish arrogance often results in commissions; humility can have its drawbacks: lack of work). Yet the cliché has some truth: by and large, the work our writers celebrate is not showy, stylized, or hiply avant-garde. Its virtues are quiet. Frequently, this work "disappeared" for one of two opposite reasons—it seemed (but actually wasn't) subsumed by the design conventions of its time, or it bucked the dominant high design trends by being idiosyncratic or by employing design language that was not considered au courant. Historians and magazine editors couldn't stick any of their labels on it. And, yes, some of the designers had profound distaste for self-promotion and hawking their work as commodified images.
— William S. Saunders (excerpted from the introduction)
Articles
Table of Contents
Essay
"Every Inch Alive"
Lisa Germany
A Thoroughly Modern Man
Simon Swaffield
American Curves
Thomas J. Campanella
Built Progress
Wilfried Wang
Consensus Terrorism
Wouter Vanstiphout
Curious Voids
Vittorio Gregotti
Due Recognition
John Morris Dixon
Genetic Code: Computer and Design Incompatibilities
Malcolm McCullough
Grace and Architecture
Roger Connah
Living with House VI
Bill Hubbard Jr.
Midwestern Master
Cynthia Weese
Process as Craft
Toshiko Mori
Sinan's Bridge
William L. MacDonald
Still Modern After All These Years
Thomas L. Schumacher
The Absence of Presence
Diane Ghirardo
The Life of Ideas in Architecture
Robert Harbison
The Light Between Gardens
Carlos Jimenez
The Rewards of Experiment
Susana Torre
Why Not Pleasure?
James S. Ackerman
Review
As I Was Saying by Colin Rowe
George Baird
Stanley Saitowitz: A House in the Transvaal edited by George Wagner
Graham Owen
The Architecture of Frank Lloyd Wright by Neil Levine
Anthony Alofsin