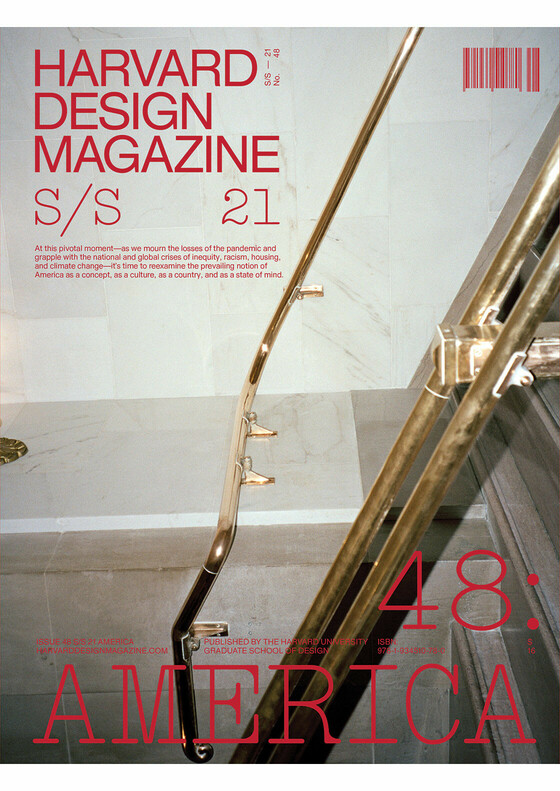 "A terrible mechanism [is] on the march, its gears multiplying." So begins the 48th issue of Harvard Design Magazine, guest edited by Mark Lee, chair of the department of architecture at the Harvard Graduate School of Design, and Florencia Rodriguez, editorial director of –Ness Magazine. The issue takes as its theme the slippery and ambiguous figure of "America," seen through the lens of the built and unbuilt environment. Americanization—once the "terrible mechanism" bent on pressing capitalist values on emerging economies everywhere—is now in retreat, eclipsed by the more urgent domestic concerns of pandemic and climate change, racial injustice and domestic radicalization. The very notion of what constitutes America is ripe for redefinition.
The America Issue of Harvard Design Magazine, featuring a new design and art direction by Alexis Mark, invites historians, architects, landscape architects, urban designers, theorists, curators, artists, and planners to reflect on the country's past and present, and to imagine sustainable futures. Projects, taxonomies, dialogues, essays, and spatial interpretations explore possible Americas. They allow us to delve into issues relevant to small cities, towns, and rural areas—as well as major urban centers—and to study barriers and opportunities facing communities across the country.
Articles
Table of Contents
Editors' Letter
The America Issue
Mark Lee & Florencia Rodriguez
Column
America for the Americans!
Jorge Francisco Liernur
America: a reflection
Jeffrey Kipnis
American Architecture
Kersten Geers & David Van Severen
Paul Revere Williams: Another Take
Victor J. Jones with Photographs by Janna Ireland
The New Social Housing
Marc Norman
Essay
"Rerighting" History: The Benito Juarez Community Academy
Maite Borjabad López-Pastor
American Time: The Vertiginous Descent from Machu Picchu to Seaside
Sylvia Lavin
Bye-Bye Babylon
Charlotte von Moos
Considering Americanization, 1880–1960
Lisa Ubelaker Andrade
In Conjunction?
Sean Canty
Lack of Consensus: A Historian's Take on the Territory
Edward Eigen
Looking Together
Michael Meredith
Making Do at the GSD (with Dave Hickey, Charles Jencks, and a few others)
K. Michael Hays
Plains and Pampa: Decolonizing "America"
Ana María León
Sinmi Stool: Design with a Black Intent?
Zoë Ryan
The New MoMA
Pezo von Ellrichshausen
Willi Smith, WilliWear Map Print Skirt, Summer 1986 Collection
Alexandra Cunningham Cameron
Interview
A Civil Society
Maurice Cox & Rahul Mehrotra
American Cool and the Dirty South
Dave Hickey, Jennifer Bonner, Max Kuo & Mack Scogin
At Home in America
Michèle Lamy & Mark Lee
Banham in America: A Transatlantic Dialogue
Ludovico Centis & Todd Gannon
Let's Try to Be Relevant
Sarah Whiting & Florencia Rodriguez
Making Gardens, Making Books
Henry N. Cobb & Michael Van Valkenburgh with Matthew Girard & Alexander Luckmann
Never Let a Crisis Go to Waste
Shaun Donovan & Jerold Kayden
The American Object
Jonathan Olivares & Robert Stadler
The Chicago Model
Rahm Emanuel & Sharon Johnston
Photo Essay
Hobbling Away
Photographs by Marianne Mueller with an Introduction by Charles Shafaieh
Leaves of Grass
Adam Monohon
Special
"America: I've Given You All and Now I'm Nothing"
Mimi Zeiger & Ann Lui
"Chicago was Nowhere"
Paul Andersen & Sam Jacob
"Politics as Geography"
Neeraj Bhatia & Brendan Cormier
"Race & Space"
Michelle Joan Wilkinson & Adrienne Brown
Notes on Jeffrey Kipnis's America: a reflection
Michael Osman
Remembering Henry N. Cobb (1926–2020)
Michael Van Valkenburgh
Colophon
Editorial Director

Julie Cirelli
Production Manager

Meghan Ryan Sandberg
Guest Editors
Florencia Rodriguez
Mark Lee
Graphic Design & Art Direction

Alexis Mark
Copyeditor

Rachel Holzman
Researchers

Emma Bird, Cynthia Deng, Arta Perezic
Printer

Flagship Press, North Andover, Massachusetts, USA