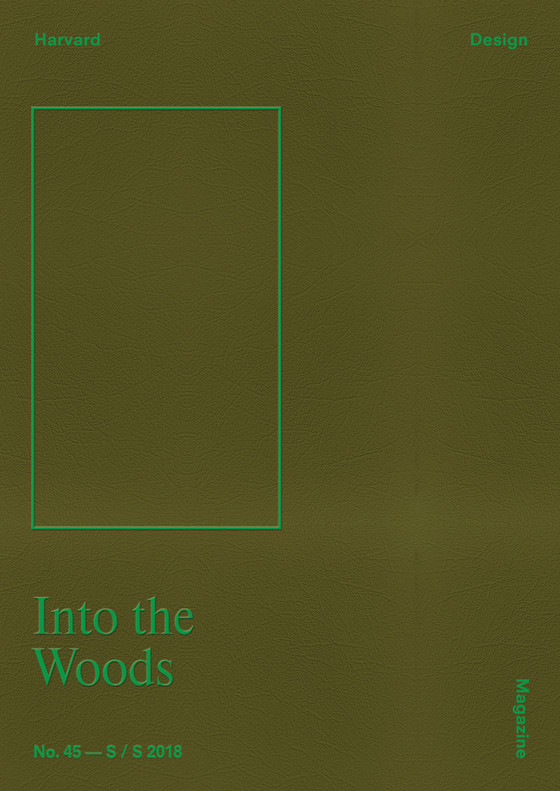 To go "into the woods" is to enter both nightmare and wonderment, chaos and serenity. The woods are the threatening realm of wolves and witches, yet also a space of peace and introspection. They confound and illuminate, disorient and clarify, endanger and protect. The woods are where we "come to our senses," and where we embrace our wilder selves. They are a space of complex life forms and ecological destruction; of growth and decay; of fantasy and ritual; of secrets and control; of hiding and
 the hidden.
The woods are often framed as a nonurban place; an entity separate from, and opposed to, the city—even the world; an eternal refuge that can smoothly be entered and exited, gone into and back out of. But how much of our woods still remains to go into—and on what terms?
As designers, we encounter the woods as building site, as obstacle, and as resource—territory to be cleared, but also to be preserved, cultivated, tamed, or simulated.
Wood itself—along with its products like lumber, wood pulp, silvichemicals, and charcoal—fuel the building industry and feed architecture. In a period of accelerated climate change, the planet's woods are disappearing, burning up, threatening and threatened by human existence. How can we holistically address the woods and its ecosystems, and the life and life-giving power they contain?
This issue of Harvard Design Magazine treks into the woods to come to terms with its precarious status as habitat and resource, and to challenge assumptions about wood as material. We won't be "out of the woods"—this looping conundrum—any time soon, even if the woods as we once knew it, and might still imagine it, has ceased to exist. At the intersection of wilderness, urbanization, and myth, "Into the Woods" embraces contradiction, challenges destruction, and revisits our roots, biological and architectural alike.
Articles
Table of Contents
Column
A Cabin of Curiosity
Eelco Hooftman
Bewilderment
Jack Halberstam
Burning Wood, Burning Woods
Stephen Pyne
Images and Thoughts under the Trees
Teresa Moller
Into the Local Woods
Lawrence Buell
The Clearing
Maria Thereza Alves
The Divine Forest
Giorgio Agamben
The Form of Life
Alessandro Bava
The Jungle's Call
Dilip da Cunha
The Monsters in Our Fairy-Tale Forests and How They Got There
Maria Tatar
The Space between the Words
Carolyn Finney
The Tragedy of Liberal Environmentalism
Jessica Dempsey
Whose Woods These Are I Think I Know
Tuomas Toivonen
Essay
Agonistic Ecologies
Daniel Ibañez
Detroit, a Forested History
Jonah Susskind
Forest, Tower, City: Rethinking the Green Machine Aesthetic
Daniel A. Barber, Erin Putalik
Gaming the Environment: On the Media Ecology of Public Studio
T. J. Demos
Inciting the Cold War: Berlin's Street Trees as Firewood
Sonja Dümpelmann
Metabolizing Wood: Concrete Timber in Japan
Casey Mack
Plantation Landscapes: Palm Oil and an Ethics of Visibility
Milica Topalovic
The Art and Craft of Mass Timber
Brett Schneider
The Eco-City That Didn't Exist
Japhy Wilson
The Forest and the Cell: Notes on Mosej Ginzburg's Green City
Dogma
The Forest Community: Sovereign, Subject, Trees
Dan Handel
The Prefixes of Forestation
Rosetta S. Elkin
Interview
Dream-Work as Form-Work
Eduardo Kohn, Prathima Muniyappa, Rhea Shah
Letting Nature In
James Lapine, Mahfuz Sultan
Listening to Darkness
Janet Cardiff, Silvia Benedito
The Politics of the Rhizosphere
Anna Tsing, Rosetta S. Elkin
Photo Essay
The Site That Wasn't There
Bas Princen, Giovanna Borasi
Artifact
A Cut, a Move, a Forest
Fabrizio Gallanti
Distanced Authorship in the Anthropocene
Erle C. Ellis
Fallen and Felled
Robert Pogue Harrison
Fervor and a Forest from Mussolini's Italy
Jana VanderGoot
Gaian Plumbing
Salmaan Craig
Nominal Versus Actual: A History of the 2×4
Oliver J. Curtis
Nuclear Wood
Danielle Choi
Nurturing the Woods
Ken Tadashi Oshima
Robert Propst in the Woods
Phillip R. Denny
The Softest Power: Trees in Combat
Fionn Byrne
Woodland Kintsugi
Andrew Witt
Insert
Person Holding a Gun
Mary Pansanga, Tang Chang
Plus
Endangered Words: A Search
Katie Holten
Operational Landscapes of Forestry
Nikos Katsikis
Rereading: Daniil Kharms, "A Man Had Left His Home One Day"
Alexander Brodsky, Markus Lähteenmäki, Matvei Yankelevich
What Would Wood?
Sheila Kennedy
Project
Trees, Vines, Palms, and Other Architectural Monuments
Paulo Tavares
Colophon
Editor in Chief
Jennifer Sigler
Deputy Editor
Leah Whitman-Salkin
Production Manager
Meghan Ryan Sandberg
Creative Direction & Design
Jiminie Ha & Fahad Al–Hunaif
With Projects, Inc.
Editorial Board
Silvia Benedito, Edward Eigen, Rosetta S. Elkin, Eric Höweler, Kiel Moe, Charles Waldheim
Copy Editor
Frances Malcolm
Proofreader
Rebecca McNamara
Interns
Gina Ciancone, Elias Logan
Printer
AS Printon Trükikoda, Tallinn, Estonia