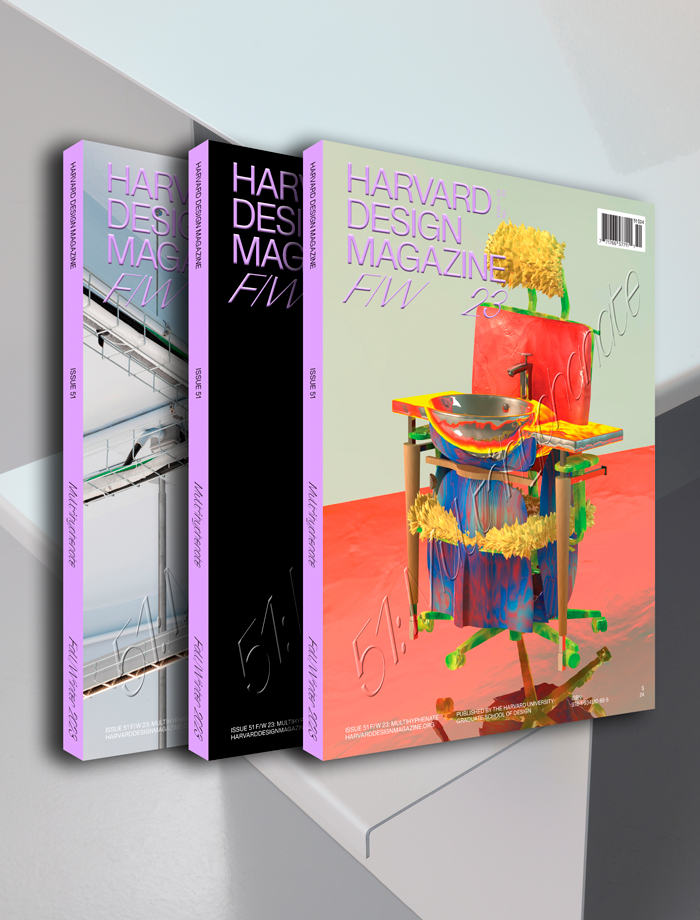 PRE-ORDER YOUR COPY NOW! (magazines will ship October 2023)
Multihyphenation is a compound term referring to alternate modes of creative production: "Collab" culture; "brand X brand" projects; and multiple, or even opaque styles of attribution and ownership among the individuals, studios, and practices that engage in such work. For them, the "body of work" they produce matters more than maintaining a singular creative identity as an individual designer, architect, artist, and so on. As Virgil Abloh—the consummate multihyphenate—remarked in a recent interview, "it's explicitly the fact that I split my time among many things that gives me the point of view to know that what I'm doing is relevant." Which is to say, one way of navigating a world dominated by multinational corporate firms and global brands is simply to become a multiplicity: architect-hyphen-curator-hyphen-art director-hyphen-furniture designer-hyphen-theorist-hyphen-fashion designer, etc., etc., ad infinitum.
The 51st issue of Harvard Design Magazine, "Multihyphenate," is edited by Sean Canty, Assistant Professor of Architecture, and John May, Associate Professor of Architecture, both from the Harvard Graduate School of Design, and Zeina Koreitem, design faculty at the Southern California Institute of Architecture (Sci-Arc). The guest editors have invited an international group of architects, curators, fashion designers, scholars, and artists to question the issue's theme from different vantagepoints. Is multihyphenation actually new? SUPERSTUDIO, Rem Koolhaas, Denise Scott Brown, the Eameses, Eileen Gray, even Le Corbusier (the list is endless)—weren't they all, in some way or another, multihyphenates? Or is something different happening today? Is multihyphenation a legitimate political response to present conditions, or must it always devolve into a cynical branding strategy? And crucially, is this model of practice allowing marginalized voices in the design fields to have more presence? Were there multihyphenates in the past who were overlooked in their own time, precisely for their marginal status? 
The issue features curator Antwaun Sargent in conversation with artists Rick Lowe and Amanda Williams, as well as interviews by the guest editors with fashion designer Casey Cadwallader of Mugler, artist Farah Al Qasimi, and Felix Burrichter, founder and creative director of PIN–UP magazine. An essay by artist Irena Haiduk on the Third Way and Yugoslav fashion designer Aleksandar Joksimović is accompanied by never before published drawings by the designer. Architect Andrew Witt and artist collective Metahaven consider the future of artificial intelligence in design in a pair of essays. The issue also includes a lecture by the artist, designer, and landscape architect Barbara Stauffacher Solomon, given at the Harvard Graduate School of Design in 1986, as well as other contributions by Jasmine Benyamin, Esther M. Choi, Jean-Pascal Flavien, Carolyn L. Kane, Mark Lee, Malkit Shoshan, Oana Stănescu, and Alfredo Thiermann. The issue concludes with a series of dispatches from curators and editors from around the world, including Edward Enninful, Hans Ulrich Obrist, Sumayya Vally, Carson Chan, Tosin Oshinowo, Jan Boelen, Nora Razian, Aric Chen, Shirley Surya, Fredi Fischli, and Niels Olsen. 
A highlight of the issue is a visual folio featuring more than 40 multihyphenated works that exemplify complex strategies for navigating creative practice today. The folio is a conceptual anchor of the print publication, designed by Copenhagen-based cross-disciplinary office Alexis Mark. "Multihyphenate" employs AM Explorer, an issue-specific typeface developed by Alexis Mark as an homage to Microsoft's Internet Explorer browser, which was retired in 2022.

Articles
Table of Contents
Essay
A WORLD AT ONE WITH ITSELF
Esther M. Choi
AESTHETICS OF EXTINCTION, AESTHETICS OF CONSERVATION: THE CHILEAN PAVILION AT THE 59TH VENICE ART BIENNALE
Alfredo Thiermann
DATA, DIGITAL MEDIA, AND A DIFFERENT DESIGN OFFICE
Andrew Witt
HOW TO DISINTEGRATE COMPLETELY (. . . BUT ALWAYS BE FOUND)
John May
SNIPPETS: LARGE LANGUAGE MODELS, UNCERTAINTY, AND DESIGN
Metahaven
SPACES OF HOPE IN UNCERTAIN TIMES
Malkit Shoshan
THE WHITE NOISE RHETORIC
Carolyn L. Kane
VAGUE TERRAINS: SOME MEDITATIONS ON ART-AS-LANDSCAPE-AS-ARCHITECTURE
Jasmine Benyamin
Interview
AFTER IMAGE
Farah Al Qasimi and Zeina Koreitem
MULTI-X
Felix Burrichter, Sean Canty, Zeina Koreitem, and John May
SOCIAL ABSTRACTION: MULTIPLICITY & POWER
Amanda Williams, Antwaun Sargent, Rick Lowe
THE HOUSE IS THE SUBJECT
Jean-Pascal Flavien and Mark Lee
TOTAL VISION
Casey Cadwallader and Sean Canty
Special
A CRASH COURSE ON LOVING: A TRIBUTE TO VIRGIL ABLOH
Oana Stanescu
ALEKSANDER JOKSIMOVIC: THE THIRD WAY
Irena Haiduk
GREEN RECTANGLES
Barbara Stauffacher Solomon
Call and Response
DO YOU SEE THIS EMERGING MODEL CHANGING THE SPACE OF CURATORIAL PRACTICE IN DESIGN, AND IF SO, HOW?
Aric Chen, Carson Chan, Edward Enninful, Fredi Fischli, Hans Ulrich Obrist, Jan Boelen, Niels Olsen, Nora Razian, Shirley Surya, Sumayya Vally, Tosin Oshinowo
Visual Folio
MULTIHYPHENATION
Editors' Letter
MULTIHYPHENATION
Sean Canty, Zeina Koreitem, and John May
Colophon
EDITOR IN CHIEF
Ken Stewart
MANAGING EDITOR
Meghan Ryan Sandberg
GUEST EDITORS
Sean Canty
Zeina Koreitem
John May
GRAPHIC DESIGN & ART DIRECTION
Alexis Mark
COPYEDITOR
Rachel Holzman
PROOFREADER
Mikhail Grinwald
RESEARCHERS
Elitza Koeva, Vivienne Shi
SOCIAL MEDIA & MARKETING
Audrey Watkins, Alison Zhou