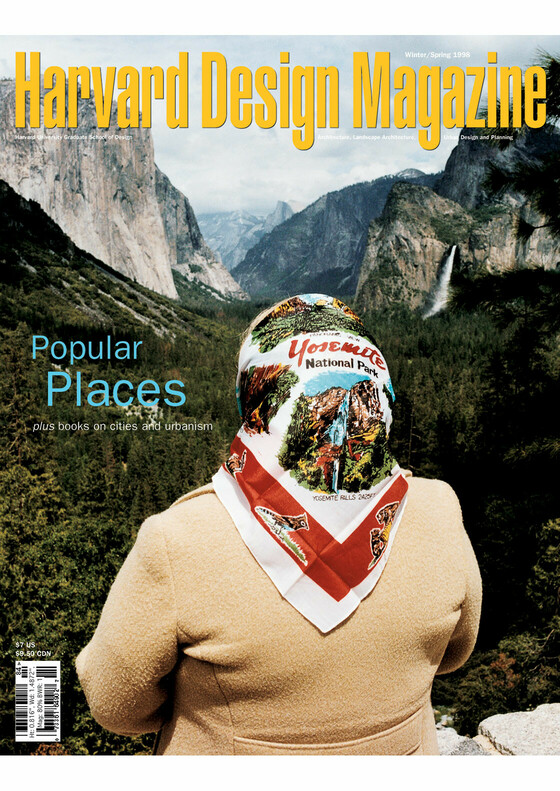 For this issue we solicited explorations of popular places, places where lots of people, in groups or alone, want to be—amusement parks, museums, famous historic districts, beaches, fashionable stores, etc. We set this agenda to respond to the fact that the quotidian environment is central in our experiences, to diversify our subject matter, and to have some fun. We asked authors to ponder what makes such places popular and what designers might learn from them.
Articles
Table of Contents
Essay
Beyond Wilderness and Lawn
Michael Pollan
Chamber of Humors
Ralph Rugoff
Dialectical Utopias
Dave Hickey
Diana's London
Mark Cousins
Fear of Mice
Andreas Huyssen
Invisible Spaces
Mabel O. Wilson
Learning from Commercial Vernacular Architecture
Robert Venturi
Locally Popular
John Stilgoe
Manifest Density
George Wagner
No (Popular) Place Like Home
Jim Collins
Off-World in the Far West
Mitchell Schwarzer
Status Quo Vadis?
Michael Sorkin
Television Modernism
Brett Steele
The Marriage of Heaven and Hell
Marshall Berman
The Right of the People Peaceably to Assemble in Unusual Clothing
Rebecca Solnit
Trespassing on Common Ground
Lucy R. Lippard
Review
Cyber Cities by M. Christine Boyer, The Urban Image of Augustan Rome by M. Diane Favro, Urban World/Global City by David Clark
Thomas Bender
Evictions by Rosalyn Deutsche
Elizabeth Wilson
Postmodern Cities and Spaces edited by Katherine Gibson and Sophie Watson
Margaret Crawford
Public Space edited by Johan Goossens, Anja Guinée, and Wiebe Oosterhoff
Ed Taverne
The City: Los Angeles and Urban Theory at the End of the 20th Century edited by Allen J. Scott and Edward W. Soja
John Kaliski
Urban Verbs by Kevin R. McNamara
Richard M. Sommer
Writings on Cities by Henri Lefebvre translated and edited by Eleonore Kofman and Elizabeth Lebas
Margaret Crawford